Project-Based Learning (PBL)
Why Is Project-Based Learning Important?
The many merits of using project-based learning in the classroom.
PBL Helps Students Develop Skills for Living in a Knowledge-Based, Highly Technological Society
The old-school model of passively learning facts and reciting them out of context is no longer sufficient to prepare students to survive in today's world. Solving highly complex problems requires that students have both fundamental skills (reading, writing, and math) and 21st century skills (teamwork, problem solving, research gathering, time management, information synthesizing, utilizing high tech tools). With this combination of skills, students become directors and managers of their learning process, guided and mentored by a skilled teacher.
These 21st century skills include
personal and social responsibility
planning, critical thinking, reasoning, and creativity
strong communication skills, both for interpersonal and presentation needs
cross-cultural understanding
visualizing and decision making
knowing how and when to use technology and choosing the most appropriate tool for the task
"One of the major advantages of project work is that it makes school more like real life. It's an in-depth investigation of a real-world topic worthy of children's attention and effort."

-Education researcher Sylvia Chard
PBL and Technology Use Bring a New Relevance to the Learning at Hand
By bringing real-life context and technology to the curriculum through a PBL approach, students are encouraged to become independent workers, critical thinkers, and lifelong learners. Teachers can communicate with administrators, exchange ideas with other teachers and subject-area experts, and communicate with parents, all the while breaking down invisible barriers such as isolation of the classroom, fear of embarking on an unfamiliar process, and lack of assurances of success.
PBL is not just a way of learning; it's a way of working together. If students learn to take responsibility for their own learning, they will form the basis for the way they will work with others in their adult lives.
PBL Lends Itself to Authentic Assessment
Authentic assessment and evaluation allow us to systematically document a child's progress and development. PBL encourages this by doing the following: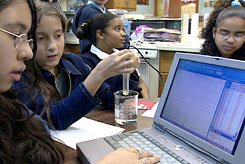 Mott Hall School: A popular science lab activity is the culmination of several days' worth of exploration into the heat of fusion.
It lets the teacher have multiple assessment opportunities.
It allows a child to demonstrate his or her capabilities while working independently.
It shows the child's ability to apply desired skills such as doing research.
It develops the child's ability to work with his or her peers, building teamwork and group skills.
It allows the teacher to learn more about the child as a person.
It helps the teacher communicate in progressive and meaningful ways with the child or a group of children on a range of issues.
Lee Shulman, president of the Carnegie Foundation for the Advancement of Teaching, has observed, "Teaching has been an activity undertaken behind closed doors between moderately consenting participants." PBL promotes lifelong learning because
PBL and the use of technology enable students, teachers, and administrators to reach out beyond the school building.
Students become engaged builders of a new knowledge base and become active, lifelong learners.
PBL teaches children to take control of their learning, the first step as lifelong learners.
In that pursuit of new knowledge, technology allows students access to research and experts, from such sources as first-person accounts to movies of the Civil War found on the Library of Congress's American Memory collection to online chats with NASA astronauts.
PBL Accommodates Students with Varying Learning Styles and Differences
"We are living in a new economy - powered by technology, fueled by information, and driven by knowledge."

--"Futureworks: Trends and Challenges for Work in the 21st Century" (U.S. Department of Labor)
It is known that children have various learning styles. They build their knowledge on varying backgrounds and experiences. It is also recognized that children have a broader range of capabilities than they have been permitted to show in regular classrooms with the traditional text-based focus. PBL addresses these differences, because students must use all modalities in the process of researching and solving a problem, then communicating the solutions. When children are interested in what they are doing and are able to use their areas of strength, they achieve at a higher level.
Research Supports PBL
A growing body of research supports the use of PBL. Schools where PBL is practiced find a decline in absenteeism, an increase in cooperative learning skills, and improvement in student achievement. When technology is used to promote critical thinking and communication, these benefits are enhanced.
This guide is organized into six sections: