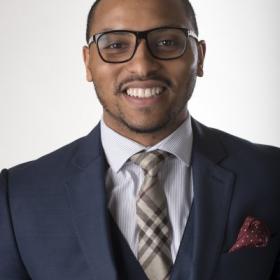 Troy Boyd Jr
Director, Alumni and Fellows Program -- Urban Prep Academies
Troy Boyd Jr is the Director of the Alumni and Fellows Programs at Urban Prep Academies. Urban Prep is a non-profit 501(c)(3) organization founded in 2002 with the mission of providing educational opportunities to urban boys leading to their success in college. Urban Prep operates three all-male schools, including the country's first all-boys public charter high school, as well as an alumni program and a full-year service program for recent college graduates.
Prior to leading two of the network's the three major programs, Troy worked as the Executive Assistant to the CEO and Manager of Network events for Urban Prep Academies. He also served in various roles at Urban Prep's Englewood Campus including: Manager of the Pride Program (dedicated to the students' socio-emotional well-being), U.S. History Teacher and Basketball Coach. In his time at the campus level, he developed and organized the school's first intramural sports program which produced an increase in student attendance and led to decreases in student tardiness and behavioral issues.
In his current role, Troy leads a department of full-time staff dedicated to providing aggressive interventions to Urban Prep alumni to promote enrollment, persistence and graduation from college. Highlights of Troy's responsibilities include Urban Prep alumni boasting the highest college enrollment rates of any Chicago Public School and building meaningful partnerships with multiple colleges (Cornell University, Morehouse College, Denison University, etc.) that have positively affected the enrollment and persistence of Urban Prep alumni. He also manages a crop of Urban Prep alumni each year who are recent college graduates that serve the organization as tutors, mentors, student recruiters and staff during a year-long fellowship. The goal of the program is to prepare each cohort of Fellows for long-term employment and meaningful careers while also affording them the opportunity to positively impact and strengthen the communities from which they come.
Troy earned his Bachelor's Degree in Broadcast Journalism from the Medill School of Journalism at Northwestern University. He was raised on Chicago's Southside and attended St. Francis de Sale High School.