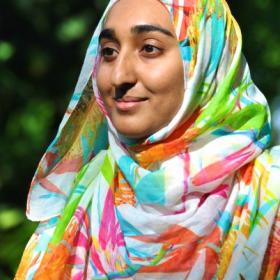 Reem Rahman Kareem
Dedicated to creating research and learning tools that will help empower changemakers and drive social impact.
Reem Rahman works at Ashoka Changemakers as a Product and Knowledge Manager to help anyone with an idea for social change succeed in making a difference. She is passionate about creating open-source tools for learning and designs products to increase collaboration, impact, and sustainability. These have included a dashboard for every user to receive custom feedback, the Changemakers Guide to Pitching and Crash Course, and guides on trends in social innovation such as the the interactive Citizen Media Toolkit (changemakers.com/citizenmedia/tooklit).
Prior to joining Ashoka, Reem was one of the Managing Directors for the innovative Rethinking Islamic Reform forum in the UK, which has reached over a hundred thousand viewers to date and she directed communications and public relations for a civil rights group in Chicago.
Reem graduated with honors from the University of Illinois at Urbana-Champaign with a Bachelor's in Cognitive Neuroscience and received a Master's in Management Research from the University of Oxford focusing on strategy, innovation, and entrepreneurship. She resides in Washington, D.C., US.