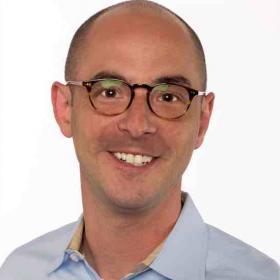 Mike Lewis
Mike Lewis is passionate about effective communication using the tools of the 21st century. Over the past decade, Mike taught 4th and 5th grade in Cohasset, MA and for the District of Columbia Public Schools where his students developed traditional language skills using multimedia to communicate, collaborate, and problem-solve strategically. Mike's success in the classroom was predicated on his ability to listen and respond to the needs of his students, adapt their interests into expertise, and create a culture that leveraged the group's collective individuality. 
Specializing in literacy and technology, Mike's unique approach to community engagement resulted with invitations to participate on projects, committees, and events across the country and around the world. He's consulted with Scholastic, Heinemann, and Lucy Calkins to curate outstanding literacy collections. His interest in information design lead to both print and digital resource development for Learnzillion, the Education Counsel, and the Gates Foundation.
Mike served as an advisor to Melinda Gates, facilitated design-thinking trainings for the Los Angeles Unified School District's Innovation Team, and worked as the Multimedia Storytelling Specialist for the Redesign Challenge. Visual Vocabulary Design, the program he developed as part of the Apple Distinguished Educator community is featured on the iBooks Bookstore and was showcased during Apple's Worldwide Institute in Berlin, Germany.  
While he'd much rather work with teams to develop his expertise, Mike occasionally speaks at conferences and events on the topics of digital literacy, social media, and metacognitive development. He's presented at the University of Connecticut, held seminars at Bowdoin College, lectured at Columbia University, and co-developed a full-day workshop in video creation for High Tech High's Deeper Learning Conference.