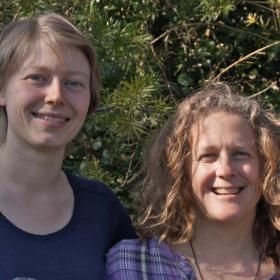 Marina Robb and Victoria Mew
Authors of Learning With Nature
Putting the world wide web generation in touch with the whole wild world.
We work to reconnect people from all backgrounds and ages to rediscover the natural world.
We have two primary aims:
To move people to a more mature and respectful relationship with the natural world.
To influence a change in cultural, personal and environmental values.
Why we do it?
We see time and time again how rediscovering nature benefits all ages. It makes us happier, healthier, increases our self-esteem, empathy, helps us to learn and instils a lifelong love of nature.
In the outdoors, all our senses are stimulated, we feel alive, inspired and ready for anything! We want a future where nature matter's, where we capture what people have to offer, and realise we all are important.
The opportunities for enriching learning through outdoor environments are endless. Among the many groups we work with are schools and other educational groups we hope to inspire to integrate more nature time into their regular weeks. With Anna Richardson, we recently co-authored Learning With Nature:
Marina Robb (PGCE; BSc; MA; Msc) is the founder and Managing Director of Circle of Life Rediscovery, a leading community interest company that provides outdoor learning experiences for all ages and backgrounds, and Forest School training for adults.
Marina is a Forest School trainer and practitioner with a background since 1990 in teaching, environmental education, nature connection, environmental management and social research. She has a special interest in finding new and old ways of connecting people to nature and encourages young people to find their real voice and discover pathways to true adulthood.
Website: www.circleofliferediscovery.com
Victoria Mew has followed her love of nature and curiosity in indigenous cultures since she was 12 years old having been introduced to a Trackways family camp, sleeping out in a lean-to shelter with a fire for her first time. She spent her gap year training with Wilderness Awareness School, WA, USA, building up experiences that would culminate in a week-long survival quest in the Cascade mountains; tracking coyotes until she caught up with them, learning what wild plants could be harvested for a meal, experimenting with different types of shelters and being mentored to bring these skills to children of all ages. She gained a BScHons in Human Sciences at UCL and has since founded 'Cultivating Curiosity', an organization that works with people of all ages outdoors. She is also an independent forest school practitioner. She will complete her Steiner Teacher Training July 2015.
Website: www.cultivating-curiosity.co.uk