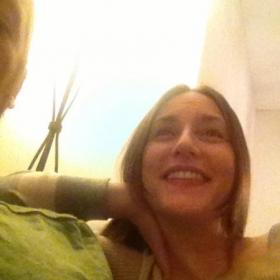 Kristin Stuart Valdes
Artist and Educator
Kristin Stuart Valdes is an artist and educator who began her work in the New York City public schools as a teaching artist, in the disciplines of theater and creative writing, working with Henry Street Settlement and Teachers and Writers Collaborative. She began her work in the field of social and emotional learning while working with students who had witnessed 9/11 from their school building and who ended up calling one another "terrorists" in its aftermath. She has a deep interest in the roles that cultural practice, language, ethnicity, and class all play in the way we interact with one another, and in the way creativity contributes to our ability to resolve social and emotional problems effectively.
She was the senior program manager of the 4Rs+MTP research study, funded by the U.S. Department of Education, which delivered a social and emotional learning program and 1:1 coaching to teachers who delivered it, in over 60 public schools in the Bronx. She has worked with Morningside Center for Teaching Social Responsibility and the National School Climate Center  as a senior staff developer and contributing writer. With Teachstone she has served as a mentor coach on a wide range of projects including working with Native American teachers on Native American land. Her book, Humanizing the Classroom: Using Role Plays to Teach Social and Emotional Skills (Rowman and Littlelfield 2019), outlines an arts-based pedgogy to teach a wide range of SEL skills.
She is also an award-winning screenwriter and music-theater maker, and her work has been recognized by the Academy of Motion Picture Arts and Sciences and presented at venues including Lincoln Center for the Performing Arts and the Brooklyn Academy of Music. She is a certified CLASS observer and trainer and a Part 137 mediator for the NYC courts, and she holds a BFA and MFA from NYU's Tisch School of the Arts.