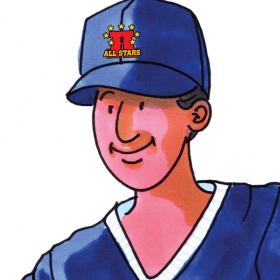 After working for such corporations as Revlon and Estée Lauder, Christofora found his calling when he began to coach little league. He has coached the Mountain Valley Little League (formerly the Woodstock Little League) since 2008. More than a pastime, Kevin loves working with the children. He prides himself on teaching them that it's about more than a game: it's about honor, respect, and community. As president of the league, he enjoys working with the parents and community members that all have one main interest: the kids. As he puts it, "MVLL is real fun, real life, and real baseball, with no substitutions".
Written for children ages three to five, Kevin wrote The Woodstock All Stars as a "bedtime story" to get kids interested in the national pastime again. His goal in writing this book was to get kids out of the house and onto the field – "more green, less screen!" He believes in the valuable lessons that children learn from playing the game: teamwork, discipline, strategy, and thinking before they act. In addition, he wants to bring back the joy of being outdoors and playing for fun that kids in recent years have lost.
An engineer by education, Kevin gave up the corporate life to move back to his hometown and become a butcher, a dad, and a Little League Coach. He has found more happiness doing this than he ever had before, and he hopes to pass the excitement of the game to other children with The Woodstock All Stars. This is his first book.