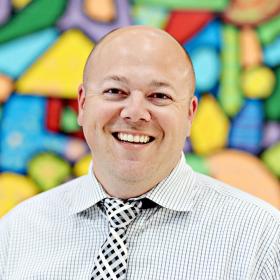 Justin Uppinghouse
Elementary School Principal
Justin Uppinghouse is currently serving his sixth year as the executive principal at John B. Whitsitt Elementary School in Nashville, Tennessee. Hired as a turnaround principal for a school that had been named one of Tennessee's priority schools in 2014, Uppinghouse quickly began developing structures and processes that focused on increasing student achievement, building instructional capacity, providing shared leadership and ownership opportunities, and improving the school's climate and culture. Principal Uppinghouse has been a Principal of the Year finalist in the Metro Nashville Public Schools for the past two years, after successfully leading Whitsitt Elementary out of priority status and to a Level of Effectiveness Score of 5.
Prior to his work at Whitsitt, Uppinghouse served as a middle school principal, assistant principal, and school social worker in Illinois. He earned his bachelor's degree and Master of Social Work from the University of Illinois at Urbana-Champaign. He also earned a Master of Science in education from Eastern Illinois University.
Principal Uppinghouse's areas of interest include leading school turnarounds, community engagement and partnerships in schools, and developing leadership opportunity to increase ownership and accountability.