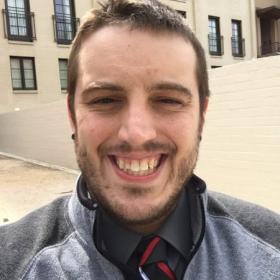 Josh Stock
Teacher, Innovator, and Awesomeness Expert
I have my MSEd in Instructional Design and Technology from Emporia State University. I teach middle school in a wide range of Language Arts related areas including reading, writing, and journalism. I currently teach Sixth Grade Language Arts at Santa Fe Trail Middle School in Olathe, KS. My primary expertise is in the use of Web 2.0 tools in the classroom including podcasts and blogs and I just started exploring the use of a classroom maker space as a means of improving student engagement.
In 2016 I was on the National School Board Association's "20 to Watch" Educational Tech Leaders list. In 2017 I received the Make It Happen award from the International Society for Technology in Education. I've also presented at several conferences including: ISTE, MACE, NCTE and several district conferences.
I have served in various leadership roles including: Technology Research Team, Common Core Lesson Planning Team, Building Leadership Team, Technology Cadre, Reading Seminar Trainer and Language Arts Advisory Council. I am currently participating in action research on the use of technology to improve student writing and all around student awesomeness.