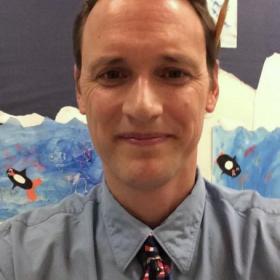 Hello, I am a husband, father, amateur athlete, struggling artist and ART TEACHER. This is my 17th year as the art teacher here at Symonds Elementary School. I love teaching art, working with children and I love our school. I received my BFA from New York's Alfred University, College Of Ceramics, Art And Design in 1993. After working for a few years as a woodworker, I discovered that it was in my nature to teach. This drive lead me to earn my teacher certification through New Hampshires own, Franklin Pierce College. I am from this wonderful little city of Keene, N.H. And feel very fortunate to be able to teach in my own hometown.
What a dream it is to work with children in the creation and reflection of art, exploring it's role in the world, throughout history and within their own lives. I also have a passion for Legos so I started a Lego club 4 years ago for 1st, 2nd and 3rd graders. Held at different times throughout the year, students get to explore building creatively as they have fun together in a relaxed social atmosphere. Did I say I like Legos?
Beth Corwin our P.E. teacher leads a large, after school running club that I assist with in the fall. Running is an important aspect of my life so why not get another run in with the younger runners. Another important program is our school wide SilverGraphics art fundraiser that I organize. Students work in art class to create art work that gets turned into cool products by the SilverGraphics company. Then families have the option to purchase a variety of products with their child's art work on them. This is a very successful program for everyone involved. The funds raised by this program are used to support art education in our school. Most of these funds are used in our yearly Artist in Residence program.
The Artist in Residence program has a long history at Symonds. Working with our other specialists, principal and staff, we develop a variety of enrichment concepts, research artists and develop an Artist in Residence program that works to include all students and staff in whatever creative process is planned. The residency in addition to the theme and final product, always has a social curriculum component woven into the process and culminating event. The residencies also become practical, hands on, professional development for me that I can continue to integrate into the art curriculum and our school community. Plus it's exhausting fun.
Thanks to our principal and district I was allowed to start a summer art camp at our school. Thirteen years later and it still fills up. It's open to anyone from kindergarten to 5th grade. It is a self funded program, using no district funds. I typically hold 3 separate weeks of camp, during the morning hours. There is always a weekly theme that we explore and a end of week art show. I change themes and projects every year to keep it fresh for the returning students and to push my own creativity and my teaching. This takes tons of research for inspiration, planning and prep. I find that I need these challenges to keep me moving forward.