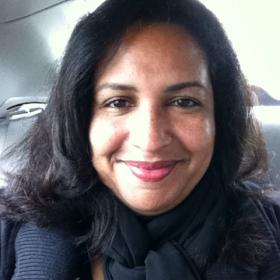 Hollee Freeman
Independent Educational Consultant
Dr. Hollee Freeman taught elementary school for in New York City schools before focusing her professional attention on training teachers in mathematics education. Hollee received her B.A. in psychology and elementary education from Columbia University, a M.S. in special education from Bank Street College, and has a Ph.D in Educational Administration from Boston College. Dr. Freeman is a nationally certified teacher through the National Board for Professional Teaching Standards and has worked with this organization to train teachers and principals around the US, as well as develop curriculum materials through a joint project with the National Board and the Arts & Entertainment Network. Hollee has worked as a math coach in urban, suburban and rural areas in the Northeast.
Most recently, Dr. Freeman worked as a Field Director for the Boston Teacher Residency before relocating to Richmond, Virginia, where she was born and raised. Dr. Freeman has also worked as a Senior Research Associate and curriculum writer at TERC, a not-for-profit mathematics/science research and development organization based in Cambridge, MA. Dr. Freeman has authored several articles and book chapters focusing on issues around educational reform, equity and mathematics from both national and international perspectives. Hollee currently serves as a National Faculty Professor at Lesley University in Cambridge, Massachusetts and a Teacher Incentive Fund (TIF) coach for teachers pursuing National Board Certification in the Richmond Public School system.
Dr. Freeman organized a book club for girls that has been running for over four years with members in 3 different states. In addition, she has run a math club for students and volunteered to coach her daughter's soccer team for several years. Dr. Freeman remains active in her daughter's schooling in middle school. Dr. Freeman maintains a blog www.bellabarks.wordpress.com in which she writes about parenting and being an educator, as well as relationships with her own parents. One of her blog posts focused on equity issues in education from the vantage point of a parent who is also an educator was cited at 'One of the Best in Alumni' blog posts for Bank Street College of Education for 2011.