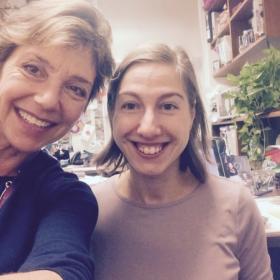 Fallon Plunkett & Lisa Yokana
Collaborating social studies and art teachers at Scarsdale High School
About Lisa: Full of energy, I have been called a "spark plug" or "firecracker"
I am convinced that we need to change the paradigm of education to better prepare students for their world. The present model is no longer valid and students are coming out of schools asking 'what now?' and rightly so. Teachers Guild Coach, Design Thinking and Making are my things!
About Fallon:
I feel that our current educational system needs to create a better connection to the students' worlds. We operate in hypotheticals, but they live in a real world. Let's give them the skills, content and tools to tackle current real world problems. I enjoy teaching through the present, hands on projects with real life applications and Design Thinking.