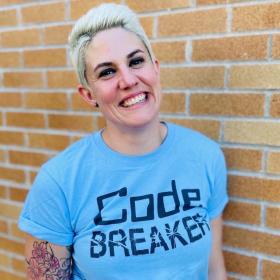 Christine Ravesi-Weinstein
High School Assistant Principal
Christine Ravesi-Weinstein currently serves as a high school assistant principal in Massachusetts and previously worked as a high school science department chair for four years and classroom teacher for 15. Diagnosed with anxiety and depression at 23, Christine began her journey towards mental wellness. She began a nonprofit organization in June 2017 aimed at removing the stigma of mental illness and promoting physical activity as a means to cope with anxiety.
As an avid writer and educator, Christine is passionate about bridging the two with her advocacy for mental health. Since March 2019, she has had numerous nationally published articles, including the number one most-read article of 2019 on eSchool News (she also had the number six and eight most-read articles in that year). She has also published articles with District Administration, the Teach Better Team, Tech & Learning, and SmartBrief.
Christine has presented at numerous national conferences including the Tech & Learning 2020 Virtual Leadership Summit and the Code Breaker Power Summit. She has also provided professional development for educators in various districts. She's also the author of Anxious (March 2020) and Fighting Your Inner Voice (August 2021) and the co-author of Disrupt the Status Quo (September 2022). Follow her work on Twitter and YouTube.