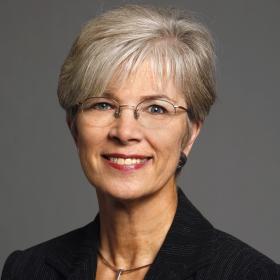 Christine Park
President, New York Life Foundation
Christine Park has been president of the New York Life Foundation, the charitable foundation created by New York Life Insurance Company, since 2007. In addition to her Foundation duties, Ms. Park is vice president of New York Life's Corporate Responsibility Department.
Through its Nurturing the Children initiative, the New York Life Foundation devotes the majority of its funding each year to programs that help children in the areas of educational enhancement and childhood bereavement. Since its founding in 1979, the Foundation has made more than $168 million in contributions to New York and U.S.-based non-profit organizations. New York Life Corporate Responsibility initiatives include the award-winning Volunteers for Good program, which helps New York Life employees nationwide volunteer within their communities.
Prior to joining New York Life, Ms. Park most recently served as president of the Alcatel-Lucent Foundation. In addition, Ms. Park served as first vice president and manager of corporate giving for Washington Mutual Bank, and for ten years held numerous philanthropic leadership positions within the Dayton Hudson Corporation (now the Target Corporation) in Minneapolis. Prior to joining Dayton Hudson, Ms. Park was an assistant to the mayor of St. Paul, Minn., and worked as a school teacher and community organizer.
Ms. Park served two terms on the board of directors of the national Council on Foundations as well as several years as chair of their Corporate Advisory Committee. She served as the board chair of Philanthropy New York, formerly the New York Regional Association of Grantmakers, and is a past Chair of the Conference Board's Contributions Council, on which she continues to serve. Ms. Park is also a board member of The Support Center in New York City.
Ms. Park earned a Bachelor of Science degree from University of Minnesota. She currently resides in South Orange, NJ.