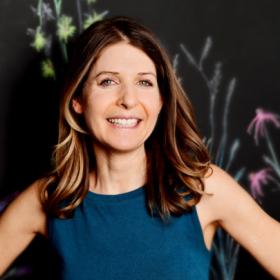 Amy Schwartzbach-Kang
Amy grew up surrounded by a family of scientists, but never thought of herself as a "science person."
After a brief stint in the world of advertising, she flung herself into teaching, where she found her heart and her voice. She has worked in Chicago Public Schools for over 12 years, and is National Board certified.
Amy earned an M.Ed. in instructional curriculum and design, and an M.Ed. in educational literacy. She has presented at teachers' conferences on incorporating interactive literacy strategies in the classroom, and she is a seven-time recipient of a competitive grant allowing her to incorporate project-based learning in her classroom.
Somewhere along the way, Amy realized that there doesn't have to be a hard line between being a "science person" and a "creative person." She co-founded The Laboratory Chicago, a space to experiment with STEAM and connect science, literacy, and creativity. She works as an education consultant helping students, teachers, and schools connect science with storytelling and popular culture.
In her free time, Amy enjoys photography, long family walks with her dogs and baby, and the occasional marathon.