Professional Learning
Walking in Their Shoes: What I Learned as Principal for a Day
Our executive director comes to understand just how tough it is to be a school leader.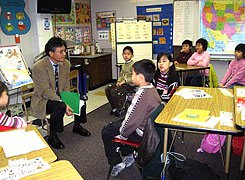 Credit: Courtesy of Marian Fong
Head of the Class: Milton Chen, executive director of The George Lucas Educational Foundation, speaks to students at San Francisco's Chinese Education Center.
In late January, I participated in the San Francisco Unified School District's Principal for a Day event, organized by the San Francisco School Volunteers. I shadowed Lisa Shek, principal of the Chinese Education Center (CEC), an elementary school for 175 newly arrived Chinese students, located under the shadow of the Transamerica Pyramid, on the edge of Chinatown.
I was interested to meet these students. I know that if political conditions in 1950s China had been different, I might have been one of them. My parents were fortunate to come to the United States from China to study shortly after World War II. But if they had stayed a few more years before coming to this country, until after I was born, I, too, might have been a student at this school for Chinese newcomers -- that is, if I had been lucky enough.
For forty years, the CEC has been assisting students and their families with the wrenching transition of moving to the United States. The school was founded in response to an urgent request from the community and is considered the first "newcomer school" of its kind in the country. Shek told me that the parents have often left the support of their larger families behind and arrived without much education or much English. They work in restaurants and hotels or pass out leaflets on the street, often working two jobs and living in cramped quarters with their children. The stress takes its toll, in domestic violence and fathers abandoning their families to return home.
A Family-Centered School
The CEC offers an oasis of hope. The staff speaks Cantonese and Mandarin and welcomes students and their parents to its modern, brightly colored hallways and classrooms decorated with student art and essays. I first met Shek in her office, where she told me that a key to her school's success is addressing the needs of the family unit by providing counseling and job-training classes for parents.
She then took me to a third-grade class. The students were bright, eager, and well behaved. It was the week of Martin Luther King Jr.'s birthday, and the students had been learning about his "I Have a Dream" speech and writing down their own dreams. They dreamed of growing up to care for their families, of becoming doctors and scientists.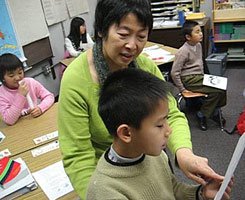 Credit: Milton Chen
Dream Job: Teacher Marian Fong looks over a student's assignment about Martin Luther King Jr.'s 'I Have a Dream' speech.
When some of the students asked me, "What is your dream?" I replied, "That every child should have a great education." They asked me, "Where are you from?" I told them I was from Chicago, and we looked at a map and pointed to Chicago and San Francisco. I asked them the same question, and they responded, "China," "Hong Kong," "Guangzhou." Then I asked them, "What do your parents do?" One boy eagerly raised his hand and announced, "Sleep!" Kids do say the darndest things, especially when they're learning the literal meanings of new words in English.
CEC has one small computer lab, where students were using Global English, a Web-based program that offers appealing graphics and animation and has eleven instructional levels. The tasks involved in learning English -- gaining a broad range of vocabulary, repeating words for pronunciation, understanding the rules (and exceptions) of phonics -- are ideal for the kinds of drill-and-practice activities computers can provide. This program frees up the teacher so she can give individual attention to other students.
The Global English program uses headsets with microphones so students can practice correct pronunciation. Though students in the other classes seemed drawn to the novelty of a classroom visitor, those in the computer lab were more interested in playing the colorful games and reciting English sentences into their headsets. I took this to be an appropriate measure of the appeal of the computer versus this classroom visitor.
Guiding Principals
After a few hours visiting classrooms, Shek and I drove to AT&T Park for a luncheon hosted by the San Francisco Giants. We met the other people participating in Principal for a Day, along with their principal guides. Lively conversations sprouted around our table about how truly inspiring principals are and how complex the job of managing a school is, from hiring and motivating staff to reaching out to parents to coordinating with social service agencies to filling out forms, wiping noses, and dealing with those misbehaving students who've landed in their offices.
In his talk to the group, SFUSD superintendent Carlos Garcia noted that principals were multitasking long before the word was invented. Garcia, who had been a principal in San Francisco sixteen years ago before serving as superintendent in Fresno and Las Vegas, said people often ask him, "Since your start in education, what change has surprised you the most?" His reply: "How little things have changed." Garcia notes, for instance, that the district's phone system is the same today as it was then, and it didn't work all that well back then.
Garcia explained that the public has no idea how complex the job is or what kinds of challenges principals face. He recounted an event that happened while he was a principal in San Francisco: He was having a meeting with a business executive when his assistant interrupted them. Garcia told his staffer, "I'm having an important meeting." His assistant insisted, "You must come out here, right now!" Garcia walked out of his office, only to be greeted by the sight of a naked man standing in the hallway. To add insult to incident, the man refused to don any of the items from the school's lost-and-found box, stating firmly, "I don't like any of those clothes."
Shek told me she had to go on workers' compensation once for an injury sustained while breaking up a fight at a middle school. Every principal can tell similar stories. I doubt that any other profession in this country includes "breaks up fights" as part of the job description.
Our table conversation became intense as Garcia began to speak about the severity of the cuts Governor Arnold Schwarzenegger has proposed, which will amount to 10 percent of the budget for schools. Decades of previous cuts have already left California's schools without much more to take away. A fellow principal for a day from Charles Schwab stated that prison-facility planners now look at the number of fourth graders who are not passing reading to help them decide how many prisons to build. In California, it's a good time to be in the prison-building business but a bad time to be in education. I can't think of a worse indictment of our state.
Every day, principals hold the future of our children, and our society, in their hands. But they are keeping our schools together with bubble gum and bailing wire. They deserve much, much more.
Milton Chen is executive director of The George Lucas Educational Foundation.