Communication Skills
Speaking as a Skill for Success
Through a four-part framework for public speaking, students find their voice and confidence.
Overview
At School 21, oracy -- the ability to speak well -- is a core element taught throughout every class, and in every lesson. Starting in the primary grades of this London-based public school, students learn an array of skills to help them become more effective speakers: how to speak in complete sentences, make eye contact, and build on each other's ideas. "I remember in primary," recalls Rummana, a Year 7 student, "I would never say a single word, and when teachers used to pick on me, I used to sit there thinking, 'Oh, no. Oh, no.' Because I was too scared to speak to people, and now I feel like I've changed, and I like my new self."
School 21's secondary students put those oracy skills to use in speeches, where they practice speaking to different real-world audiences.
In Year 7, students speak on a topic about which they're passionate. The idea is that each student deserves to find his or her voice and learn to use it.
In Year 8, students choose a subject in which they are experts and deliver a speech on that. They have developed their voice, and their focus is now sharing their knowledge.
In Year 9, students speak about a political topic. Their focus has become using their voice to engage with the world.
School 21 teaches students from Reception (pre-K) through Year 11, and will ultimately serve through Year 13.
"We spend a lot of time getting students to speak in different arenas, forums, and environments," says Rachael Futo, a Year 7 coach, "so that they're ready and prepared for things like interviews where students who come from public schools often don't do as well."
Learn how you can use public speaking as a tool to prepare your students for speaking in different real-world contexts.
How It's Done
Start With a Public Speaking Model
School 21 bases their students' speeches on the Ignite model (which in turn is based on the TED Talk model) -- a five-minute, no-notes speech with 20 slides changing every 15 seconds behind the speaker. The school holds an Ignite Talks event each summer term, involving the whole school community, including parents.
Build Your Students' Public Speaking Skills Using the Oracy Framework
Year 7 students focus on building their public speaking skills through the four strands of the oracy framework: physical, linguistic, cognitive, and emotional -- a range that helps them decide on tones of voice or body language that will help them effectively communicate their message.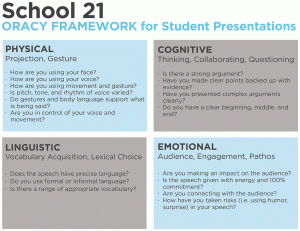 © Edutopia
"It's a lot to keep in mind at first," says Matilda, a Year 9 student, "but we're practicing it all the time in every lesson we're in, and by the time you get to Year 9, it's almost instinctive."
Have Your Students Write an Essay or Respond to Prompts to Help Develop Their Speech
In Year 7, before performing their Ignite, students develop a pre-Ignite speech. This precept speech defines and shares their life philosophy. "The precept speech is their chance to make mistakes, find their feet, and test out their voice," explains Shakela Uddin, a Year 7 teacher.
In preparing for their precept speeches, students complete two writing assignments and create a visual map to reflect different parts that they will include in their speech.
A Visual Map: First, they create a graphic representation of their lives from infancy to the present. This helps them reflect on their memories, whether they remember learning something new about themselves from one of those past experiences, and which of these discoveries they want to talk about.
Me in a Different Way: After reflecting on their memories from the visual map, they select a memory on which they'll focus. In writing, they explore what they learned about themselves from that experience, how they were before, how they have changed after, and what that journey was like.
Word Vomit: "This is a writing exercise where you write, write, and write until you're like, 'I have nothing to say,' and then you're like, 'OK, I'm going to carry on writing,'" says Uddin. She takes her students through this exercise four times. First they focus on writing the hook. What can they say to draw in their audience from the beginning of their speech? Second, they write about their story. Next, they focus on why they want to talk about that story, what they want to say about it, and reflect on which parts of the story are boring and exciting. In their last word vomit, they write about what they learned from that experience.
"Before they know it, they've written a speech already, and they're like, 'OK, I've done four parts, and that's my speech,'" says Uddin.
Year 8 students first write an essay related to the topic of their proposed speech, and later they convert it into a talk. "The idea is that it builds their cognitive skills more," explains Jess Hughes, an English teacher and coach.
They spend four weeks drafting and critiquing their essay with teacher and peer feedback, and then each student meets one-on-one with a student from the University of Cambridge for further feedback. "There's a real audience and purpose for their essay," says Hughes. "The idea is they'll come away from that tutorial with loads of feedback to then turn that essay into a speech. That's their big, midpoint critique, and then we'll have about seven weeks to convert those into speeches."
Once the essay is finished, students begin looking at the four strands of the oracy framework and building those techniques into their speech. They'll decide how they'll open their speech to hook their audience, how they'll stand and move around, and how they'll project their voice.
"What writing speeches has helped me with is definitely confidence," reflects Matilda. "I've been able to perform my speech in front of a big crowd. All of that practice really does pay off. It's a skill we can transfer to the rest of our life."
Use Peer Critique to Guide Your Students in Redrafting Their Speech
As they develop their oracy skills, School 21 students present their speeches to one or a small group of peers for feedback based on the four oracy strands: How are they emoting? How impactful is the vocabulary they're using? How effective are the gestures they're making? Are they engaging their audience?
In Year 9, instead of giving a solo speech, students debate in teams. One group speaks for -- and another group against -- a political issue. "The two proposers would critique the two opposers, and vice versa," explains Rosie Goodhart, a history teacher. "I think the value of critique is that it's a constant thing of thinking and rethinking. You're constantly being questioned. It opens up dialogue."
School 21 believes that critique helps students reflect on their development, self-assess their strengths and weaknesses, and learn how to create high-standard, beautiful work.
Incorporate a Real-World Audience
Bring in outside experts to judge students' speeches. By having them deliver speeches to authentic, real-world audiences, you're increasing your students' drive to meet higher expectations. You're also expanding their comfort zone and skill set by developing their ability to address a wide range of real-world audiences in different environments.
"You don't know how good your oracy is until you're put into a different context and are asked to do something with it," says Oli de Botton, a School 21 co-founder and head teacher. "Imagine the context we put our children in: in front of their parents in the first year, in front of undergraduates in their second year, in front of political experts in their third year, and in front of employers in their fourth year. They have the acuity, agility, and ability to frame their speech depending on the audience, which is often the missing link in speaking."