Instructional Coaching
Spreading Good Ideas Across a District
Instructional coaches working at multiple schools share innovative practices throughout the district.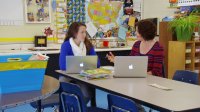 Overview
Fostering Lifelong Learners
At Albemarle County Public Schools, instructional coaching is one form of professional development from which teachers can choose. A teacher-based and teacher-driven model, Albemarle's instructional coaching mirrors the kind of learning that teachers encourage in their students.
"We really do encourage our teachers as we do our students to be lifelong learners and to begin recognizing what works best for them," says Debbie Collins, Albemarle's Director of Instruction.
Instructional coaching at Albemarle . . .
Supports teachers as lifelong learners, innovators, and risk-takers
Spreads innovative practices district-wide
Fosters continued collaboration when coaches return to teaching or take on administrative roles
Helps teachers create more authentic learning environments for students
How It's Done
The Instructional Coaching Model
Before switching to the instructional coaching model, Albemarle had school-based subject specialists in literacy, math, technology, and other areas.
"The longer they were school-based, the more likely they were to be given other duties than just the professional development piece," notes Debbie Collins, Albemarle's director of Instruction.
To fund their instructional coaching program, Albemarle reallocated resources, shifting from 60 school-based, part- and full-time employees to 32 division-based, full-time coaches.
"All instructional coaches are teachers. They're colleagues," says Collins. "This gives teachers an opportunity to reflect on their teaching, work with other teachers while not being with kids, and work on practices that they want to improve."
Albemarle's instructional coaching model is built on the foundation that teachers who collaborate and have someone available to discuss new practices are more likely to embed those practices in their everyday work.
"We know from research from years back that if a teacher goes to a conference or workshop and they don't have anyone to talk to about it, they're less likely to put the practice that they learned back into their classroom," observes Collins.
Here's the breakdown of Albemarle's instructional coaching model:
There are 24 coaches in 27 schools.
There are eight lead coaches, in addition to the 24, who act as supervisors.
Every school has at least three coaches.
Every coach works between at least three schools.
Teachers choose whether and which coach they want to work with.
After three to five years, a coach moves on to another role within the district.
Every two to three weeks, all of the instructional and lead coaches meet to discuss their work and share best practices.
"We have amazing support," reflects Trish Moya, an Albemarle instructional coach. "The meetings are always a safe place to ask questions, debrief and talk through scenarios, and get the support that we need, not only from our lead but also from our fellow coaches."
A Teacher-Driven Model
At Albemarle, teachers choose to work with an instructional coach, in addition to choosing what they specifically want to accomplish. Depending on the specific goal that teachers have in mind, the timeframe could range from one or two coach visits to an entire semester of regular meetings.
"For our instructional coaching model, this is the sixth year," explains Collins. "We've had five very successful years with 24 coaches because we built our model on the feeling that teachers know best in deciding what they want to work on and use in their classrooms."
"It always comes back to the teacher getting to tell you what they need," says Moya, who is one of three coaches at Woodbrook Elementary School. "So that's where I always begin."
There are two main ways in which teachers use instructional coaching:
They review and plan their goals at the start of the year.
They request support for new practices that they want to try in the classroom.
"One of our successes is that teachers are now interested in talking to someone about their goals," observes Collins.
Teachers also seek out coaches for help with new endeavors. If a teacher wants to start a project-based learning unit, try out new technology, or implement new instructional strategies, an instructional coach is there to discuss ideas and provide support.
Katie Collins, a second-grade teacher at Woodbrook Elementary School, describes meeting with Moya when she needed help with starting a PBL unit.
"The project-based unit that my coach and I have been working on is about plant and animal life cycles," she says. "Project-based learning is pretty new for me, so Trish Moya brings a whole other level of expertise to the board. Working with an instructional coach has been the biggest help that I could have had this year -- not only does she help me with lesson plans, she helps me think through why I'm going to teach that way."
In addition to helping plan a unit, a coach could also . . .
Model an instructional lesson plan to help a teacher see what it might look like
Observe and provide feedback as a teacher tries out a new practice
"The whole process is based on what the teacher is looking for," adds Tony Borash, a lead instructional coach.
The Instructional Coaching Cycle
There are four aspects to the instructional coaching cycle:
1. Preplanning
In the preplanning session, the coach helps the teacher process his or her thinking so that he or she can clearly articulate goals and the purpose behind them.
"I could think of a teacher that was really trying to get into STEM challenges," recalls Borash, "and the coach asked, 'What are you trying to get at for the kids? What kind of practices are you trying to move toward?' And really helped to unpack what the actual goal would be."
2. Planning
Once a clear goal and purpose are uncovered, coach and teacher begin planning to help realize that goal. An example might be laying out a first STEM challenge.
"The follow-ups would then be some way of working together so that they would make those goals into reality," says Borash. "At that point, the coach would be trying to figure out, along with the teacher, who will lead that lesson and who would be the observer to see how the kids respond."
3. Implementation
When the teacher brings the practice into the classroom, one of two things happens:
The teacher jumps right in and starts teaching.
The coach teaches while the teacher observes his or her teaching strategies and what the kids are doing.
If the teacher chooses to lead, the coach will observe the class and take note of what is working and what isn't.
4. Reflection
After implementing the practice, there is a follow-up meeting to reflect on what worked, what challenges arose, and what the next steps might be -- for that specific lesson, as well as for an approach to lesson design and next steps for a larger unit.
Spreading Innovative Practices District-Wide
"If I'm learning from these 12 teachers at this school, I take all of that learning with me to the other two schools," explains Moya. "When I get together with the coaches, I'm able to share."
These coaches spread the ideas of each teacher from classroom to classroom and school to school, ultimately reaching the entire district.
"It's a really powerful thing," notes Borash "and that it comes from the teacher's goals and the teacher-centered approach really does allow for the bottom-up growth that you always hope to see."
Instructional coaches connect teachers as well as ideas. If a teacher tells their coach about something new that he or she wants to try in the classroom, the coach may know of another teacher within the district who is doing that same practice. The coach would then connect the two teachers and help foster their collaboration. By making those connections, instructional coaches leverage Albemarle's human resources.
"We know we have lots of teachers in the school division that are doing lots of innovative and interesting kinds of work," says Debbie Collins. "And in order for us to leverage that work across the division we have to find a way to connect. The instructional coaches are connecting that work and connecting teachers every day, all day long, in a way that professional development -- sending teachers to a class or workshop -- can't do."
Empowering Teachers Empowers Kids to Drive Their Own Learning
Instructional coaching empowers teachers to take risks and be innovative in the classroom. Whether through technology, PBL, or something else, these teachers are trying new practices that can engage and empower their students to take charge of their own learning. Katie Collins and Trish Moya's work together is a great example of this.
"I'm really excited about the PBL unit," states Collins, "because the kids are going to be doing it in such an authentic way. They'll be creating videos and doing their own research. They'll be posting their own things on a blog or website, and that's something that they'll always remember. Working with Trish, I've learned that kids really can drive their own learning."
"They were so excited about what they had learned," recalls Moya about watching Collin's PBL unit unfold. "Everybody was up on their knees. Nobody was sitting down. They were all like, 'I want to share! I want to share!'"
The Outcome of Instructional Coaching
Albemarle assesses the success of instructional coaching in two ways:
1. An annual survey
Albemarle conducts an annual survey to see if instructional coaching is meeting the teachers' needs.
"We overwhelmingly are told, from our novices to our most veteran teachers, that this is something they value, and they feel like they have become better teachers because of the work with a coach," remarks Debbie Collins.
2. Tracking teacher-coach interactions
Each year, Albemarle tracks the number of teacher-coach interactions.
In 2014-15, Albemarle tracked 800 interactions by midyear.
Five hundred of those interactions were recurring -- a teacher met more than once with a coach, suggesting that he or she found the interaction valuable enough to continue.
"I think it's valued because the teachers feel that their needs are being met directly," notes Katie Collins. "If I work with a coach, it's something I'm interested in doing. I see the results right away. I don't wait for an observation from a principal or something that will happen down the road to get validation. I get validation by what I see on my students' faces and the opportunities and instruction that I can put in front of my students."
Resources
School Snapshot
Grades K-12 | Albemarle County, VA
Enrollment
13677 | Public
Per Pupil Expenditures
$12154 District
Free / Reduced Lunch
28%
DEMOGRAPHICS:
68% White
11% Black
11% Hispanic
10% Students with disabilities
Data is from the 2014-15 academic year.