Social & Emotional Learning (SEL)
Transitioning to High School
A year-long, weekly class orients freshmen to their school's culture and academic community.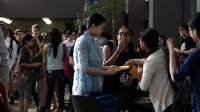 Overview
Freshman Orientation: A Year of Gentle Transition
The Freshman Orientation seminar is a year-long class for all ninth grade students. They meet with the guidance counselor in small groups once a week. This year-long program is unique as an ongoing opportunity to help students transition from middle school to high school, and as a way to build a strong, supportive community at High Tech High School.
How It's Done
All ninth grade students are enrolled in the year-long Freshman Orientation course, which meets once a week for a 40-minute class period. Each class is comprised of 10-12 students, and is run by Lou Dodge, the school's guidance counselor. Students stay in the same class throughout the year, and work closely with their peers and with Dodge as they navigate their way through their first year of high school. There are approximately 12 Freshman Orientation groups meeting every week.
Helping Students Transition from Middle to High School
There's always a period of adjustment when kids change schools, but the changes can be especially challenging between middle school and high school. Students entering High Tech High School come from so many different neighborhoods that their ties to their new classmates are limited. Freshman Orientation class helps students get to know one another, and starts to build a community. It's also a safe and supportive space where students can talk about their hopes and fears as they enter this new era of their lives.
Core Curriculum
Much of the core curriculum deals with issues of diversity and creating a culture where students are encouraged to see different points of view and lifestyles. Because the school is diverse in every respect, it focuses on making the environment one of acceptance, tolerance, and compassion. The Freshman Orientation curriculum combines hands-on activities and discussions that engage students in the topic at hand.
Week one is usually spent on establishing an environment of trust and safety within the group. Lou Dodge likes to start with some introductory activities, where students get to know one another by sharing basic things like where they are from, who they are, and why they chose to attend High Tech.
As the weeks progress, Dodge will introduce various topics and activities that explore issues of race, sexuality, gender; or academic issues, such as how to handle the new levels of responsibility and work at high school; or even how to think about what to major in and how to define their future academic and personal goals.
The activities and discussion in Freshman Orientation are never graded. The idea of this seminar is to create a safe space where students can talk freely with one another as they explore their new environment and community. Ultimately, one of the great benefits of the class is that students build strong relationships with their peers, and also embrace and embody the school culture of tolerance, respect, and support for one another.
Resources
School Snapshot
Grades 9-12 | North Bergen, NJ
Enrollment
620 | Public, Urban
Per Pupil Expenditures
$14154 District
Free / Reduced Lunch
39%
DEMOGRAPHICS:
36% White
36% Hispanic
20% Asian/Pacific Islander
8% Black
Data is from the 2013-14 academic year.