Professional Learning
Pod People: Innovative Ways to Use Handhelds in the Classroom
Teachers find cool new uses for Apple's ubiquitous music player.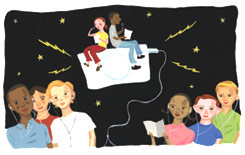 Credit: Bill Duke
It's a sleek, sexy must-have for the MP3 set, but Apple's iPod -- a digital music player in fancy dress -- is more than just a gadget for tuning out nagging adults. With the help of some clever software and creative teachers, the device can get kids engaged in their schoolwork -- and help them express themselves.
Take a project by first-year teacher George Mayo, in Virginia Beach, Virginia. His sixth graders at Brandon Middle School record podcasts, or online radio shows, as part of their classroom blog, the M&M Online Magazine. On the air, they talk about their own blogs, from Nicole D.'s "True Life Stories," about classmates, to Anthony R.'s "Myths and Legends," which deals with Dracula and the Loch Ness Monster. One podcast consists of interviews with "busy" eighth graders who talk about the life of an older student.
The students use Mayo's computer, a microphone, and the recording application GarageBand to capture what they want to say. Then they convert this recording into an MP3 file (a popular audio compression format) and upload it to the Web at www.mrmayo.org, where it can be distributed through an RSS (Really Simple Syndication) feed to subscribers who listen to the shows on their MP3 players -- iPods, most likely -- at any time.
Podcasting isn't the only way to integrate the tiny handheld into the classroom. At South Gate Middle School, in South Gate, California, students use the iPod and a small detachable voice recorder, like the Belkin or the Griffin iTalk, to interview family members about what it means to be an American. On Martha's Vineyard, in Massachusetts, third graders at West Tisbury School use the gadget to learn phonics. Beginning and English as a Second Language readers record letter sounds onto the iPod with a voice recorder, then import these audio files back to iTunes on the computer. The teacher records instructions for a lesson onto the iPod, creates a "playlist" of letter sound files on iTunes, and exports the lesson back onto the device. In an activity with consonant and vowel cards, students then listen to the lesson and, after hearing the prerecorded letter sounds, create words like cat or pad using the cards.
"It takes no time to teach children how to record their voices," says Valerie Becker, West Tisbury's technology teacher. "Even a student with short-term memory impairments was instantly comfortable with the iPod, and the middle school students do not need to be taught and can work immediately."
Whether used for podcasts or pod phonics, the popular player has earned a place in students' backpacks -- right next to their textbooks.