Project-Based Learning (PBL)
Personal Learning Networks Are Virtual Lockers for Schoolkids
Students drive their education with custom-made Web pages equipped with RSS feeds.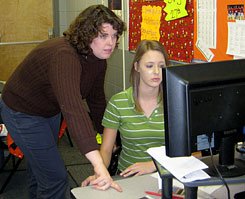 Courtesy of Vicki Davis
Digital Know-How: Vicki Davis and her student Hope discuss the current Google news.
While updating his page for Digiteen, a digital-citizenship project, a student asked me, "Have you heard of the Stop, Block, and Tell Program that is helping kids with cyberbullying?" Just moments later, another student informed me, "I found that teaching digital netiquette is one of the major issues in digital citizenship."
Some people may be surprised that these words are from my ninth-grade students during their original research for Digiteen. Breaking news happens daily in my classroom, where I've taught my students how to be in the know. The students gain this ability when they construct their personal learning network (PLN) at the start of each project.
A PLN becomes a student's virtual locker, and its content changes based on the student's current course work. When I assign them a term paper, the students comb the Web to sign up for information that will feed into their personalized Web page to construct a PLN for that topic. When they get a new project, they assemble another page.
"My PLN has RSS feeds to tie everything onto my iGoogle page, such as new blog posts, updates on the wiki, and so on," says my student Virginia. "I also have a feed from Google News so I can get live updates from the Web on recent examples of the topic I'm working on. It basically does the research for me."
Resources and messages come in from students' project partners around the world, and then a Really Simple Syndication, or RSS, feeder (also known as Really Simple Subscriptions) summarizes and puts the resources into my students' PLN Web pages. This feature helps them keep up with all the changes without a lot of hassle. When a project is over, they delete the old resources to make room for new ones.
I'm not surprised that my students become mini-experts using this method. After all, this amazing practice has transformed my life and provided me with the content to catapult my own blog, Cool Cat Teacher, to new heights. It now gets more than 200,000 views a month after just three short years.
Research Agendas
Perhaps the most telling response on the subject of PLNs is from my student Hope, who says, "My iGoogle page is very helpful and helps me keep things organized. It lets me know when my agenda changes." The fact that a ninth grader would talk about her own research agenda gives a glimpse into the power of the PLN; she is using a term here that is often reserved for grad students.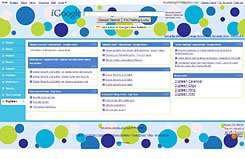 Courtesy of Vicki Davis
Hope's personal-learning-network page Click to enlarge picture
Constructing a PLN is the essential skill that moves my students into the driver's seat of their own learning. It helps them sort through and manage the proliferation of online materials that jam the information superhighway. It is also indispensable to our project-learning curriculum, which includes challenging projects such as the Flat Classroom Project, the Horizon Project, and Digiteen.
Tony Wagner, from the Harvard Graduate School of Education, lists assessing and analyzing information as one of the seven survival skills in the new world of work. I think the ability to create a PLN is a fundamental information-management skill that will help my students succeed in the future.
How Does a PLN Work?
RSS technology enables the students to create a PLN. The RSS button, often called a chicklet because of its resemblance to a piece of Chiclets chewing gum, contains all the programming required to add customized sources of news and information to a PLN with just a click. These buttons are on just about every blog, wiki, and mainstream media Web site. Clicking the button provides a free subscription to that site's latest information.
An RSS reader is a Web site that puts together all this information in an easy-to-read format. Google Reader, netvibes, Pageflakes, Bloglines, and my preferred reader, iGoogle, are all examples of sites providing RSS readers. The RSS reader is the raw material for building a PLN. I teach the kids in my Computer Fundamentals course how to set up their RSS reader during the first week of class.
Like an empty locker, the RSS reader starts off as a blank Web page, and students must learn how to seek out sources of information to fill the page that will make up their research. The PLN is never complete, but it evolves to meet the changing needs of each individual project.
My friend Cheryl Oakes, a collaborative-content coach in Wells, Maine, uses Portaportal to create a PLN as the start page for secondary school projects. Some teachers and media specialists now make it their job to construct these project portals for students so they can direct where the kids go for information. It is very easy to build these spaces for students. However, I think it is vital that they eventually know how to customize their own spaces for learning.
PLNs Aren't Perfect
Some educators may be concerned that Facebook notifications and other notices from sites blocked by the school's firewall can get onto an iGoogle page. However, these notifications still do not give students access to the sites themselves. Also, some RSS readers allow users to add games and even full television programs. To handle this issue with my students, I make sure that every computer screen is viewable from my desk.
Students also share a copy of their PLNs with me as the first step of every project, and I periodically check the content of these pages for appropriateness. The PLNs are set to be their start pages when they log on to the Internet.
With PLNs, we can now empower the personalized learning we've been longing to bring to education.
I'm thrilled that my students know how to connect efficiently to great sources of information and can now construct an environment that will make them lifelong learners. And, truly, creating a self-directed learner is the pinnacle of educational achievement.
Vicki Davis is a teacher at Westwood Schools, in Camilla, Georgia, and the author of the popular blog Cool Cat Teacher.