Project-Based Learning (PBL)
How To: Start a Place-Based Blog
Setting up some guidelines for your blogging project can help it succeed.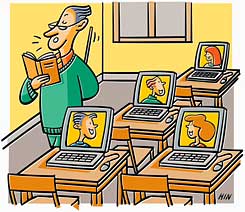 Credit: Getty Images
This how-to article accompanies the feature "Student Bloggers Connect with Peers."
No two places are the same, and when students create blogs that relate to their local communities, they can do so in an infinite number of ways. But taking the right initial steps to set up the place-based blog project can help you and your students focus on the content -- the local landscapes, people, or events -- instead of getting bogged down with logistics.
Teach Blogtiquette
Before starting the project, break down the dos and don'ts of student blogging and set out clear rules and boundaries about content. For example, emphasize the importance of using appropriate language.
Get Organized
For straightforward blog organization and networking, create separate blogs for each student and link them together on a main classroom blog (also known as a blog roll). That way, students have ownership of their work, and they can include a short bio, upload a photo, and show off their best writing. Teachers can also use the student blogs as an end-of-the-year portfolio to evaluate growth in student writing.
Find an Audience
Blogs are meant to be read, and locating a target audience helps students focus their writing while creating a regular readership. For example, if you establish a readership relationship with students from another school, your students will know that they have a real-world audience, and they'll look forward to comments from their readers.
Answer Questions of Privacy
Generating a loyal and authentic audience can inspire students, but limiting access to the blog is appropriate in some circumstances. Decide on the purpose of your classroom blog. That will help you choose whether to create a private blog only invited viewers can view or a general one open to the public.
Create a Protocol
For blogs that require students to interview people in the neighborhood or at the school, instruct them to work in small groups and then ask them to edit each other's entries before they're posted. Students can then send you the final draft of their post by email so you can check the content before posting. Alternately, trusting teachers can allow students to post directly to the blog.
Spread the Word
If the student blog is for public consumption, spread the word about it and generate a readership for your students' work by asking colleagues, family, and friends to read the blogs and post comments. Or you can print simple business cards or flyers with the blog's URL, which you and your students can pass out to community members and interviewees.
Momo Chang, a freelance journalist and former teacher in Oakland, California, has written for the Oakland Tribune, the San Francisco Bay Guardian, ColorLines, and Hyphen magazine, where she is also an editor.