Project-Based Learning (PBL)
Pick Up the Pieces: It's Only Logical
Introduce students to the original board of education.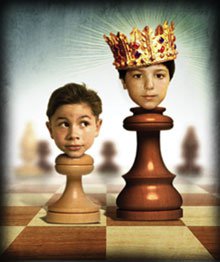 Credit: Bill Duke
One of the simplest ways to develop the critical skills essential to math and science (and anything else) is to get a chess club going at your school. Indeed, interest in scholastic chess games has risen dramatically in the last few years.
Jerry Nash, scholastic director for the U.S. Chess Federation, notes that youth and scholastic memberships reached 47,000 this year -- a 30 percent increase over the tally of a decade ago, according to the group's statistics. And that figure doesn't include the thousands of students who play chess in the classroom or after school but have not started competing in rated tournaments.
Kids are drawn to chess for many reasons, says Pete Prochaska, a lifetime chess master and an instructor for Chess Odyssey, in Portland, Oregon. "Chess is a fun game that kids take to quickly," he adds, but the initial draw may be the game's low-tech tactility. "I still remember playing with my father's chess set when I was five or six. What interested me was the shape of the pieces and setting up my own little battles with them."
Chess encourages development of logical reasoning and basic decision-making ability. Good players learn how to focus, concentrate, and learn under the pressure of time limits. Hellooo, study skills. But deft chess players aren't merely brainiacs, relying solely on cold and unfeeling logic. No player -- not even the best -- can examine all possible outcomes of a given move. Not even chess masters can see more than six to eight moves ahead, and they can do that only for a short period of time. This means a competent chess player must blend logical reasoning with intuition and experience.
You can start a club in about five weeks with as few as eight players (though more is better). Clubs typically meet once a week. Parental involvement helps a great deal, but existing clubs in the area can also pitch in by providing flyers and presentations to parents, teachers, and students. Schools are happy to support chess clubs because the only costs are the incidentals, like a well-lit, empty classroom that's available after school. Parents usually have to kick in $50 to $100 per semester to cover the cost of chess boards, pieces, and instruction. In return, clubs provide excellent instructors and tutors. Some groups are even fortunate enough to have chess masters or grand masters as instructors, as is the case with the Chess Odyssey group.
A chess gambit requires the sacrifice of valuable pieces, but starting a chess club requires only a little time and money. And the decision-making skills players develop can help them make all the right moves. It's a gambit worth making.
Get Started
These resources offer more information about chess and how to form a chess club at your school: