Assessment
Pen Pals: 826's Volunteer Writing Coaches
A growing network of workshops gets kids dashing out the door to write.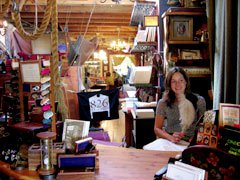 Credit: Cal Joy
Imagine a place children go after school where it's cool to do your homework, where working hard is fun, and where one-on-one help from supportive adults is always available. Sound a bit utopian? Not if you live near one of the nationally proliferating writing and literacy workshops known as 826.
The sites -- six so far -- are unique and whimsical educational spaces that help kids become better, more expressive writers. The first chapter opened in San Francisco in April 2002 at 826 Valencia Street (hence the name), and a New York chapter came a couple of years later. Now, the workshops have proven so popular that they've been set up in Los Angeles, Seattle, Chicago, and Ann Arbor, Michigan, as well.
More Community Collaboration
<?php print l('Like Technology? Join the Club', 'like-technology-join-club'); ?????????>

: Kids are crazy for computer clubhouses. <?php print l('Read', 'like-technology-join-club'); ?????????>
Learning Around the Clock
<?php print l('Video: A New Day for Learning', 'new-day-learning'); ?????????>

: Edutopia's ongoing investigation into after-school learning. <?php print l('Watch', 'new-day-learning'); ?????????>
<?php print l('Go to Complete Coverage', 'new-day-for-learning'); ?????????>
Each location nestles behind an outrageously fun storefront. The San Francisco mother ship, for instance, lures students and community members in with its Pirate Supply Store. Inside, customers can buy peg legs, eye patches, and scurvy-prevention supplies. Farther back are rows of PCs, as well as a fake tree and a tent and a cozy reading space.
Themes at other sites include space and time travel and supplies for secret agents, and a superhero emporium sells capes, grappling hooks, and antimatter. "The message you get when you walk into a superherosupply store is that we're super kid friendly," says Ninive Clements Calegari, executive director of 826 Valencia.
In addition to drop-in tutoring, 826's program includes field trips, in-school visits, and college scholarships -- plus professional publishing: Tutors help classes devise a theme for a book, but the students do all the creative work, and learn firsthand about the publishing process.
They also learn that perfect writing doesn't always start out that way. On the walls of the San Francisco workshop are framed first drafts of stories by writers such as Amy Tan (The Joy Luck Club) and Po Bronson (The Nudist on the Late Shift), each crisscrossed with red and black ink. "The kids love looking at these drafts and seeing that great writing didn't always start out that way," says author Dave Eggers (A Heartbreaking Work of Staggering Genius), who founded 826 Valencia. "They see that writing is hard work, but if you work hard at it, great things can happen."