Special Event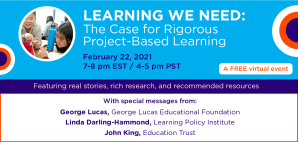 Update: The event has ended. If you missed it, you can watch a recording on our Facebook Page.
In a world filled with challenges, students who enthusiastically tackle problems and design solutions are needed. Project-based learning is a proven way to engage young people in authentic, relevant, and meaningful ways.
Anyone who cares about effective strategies for learning should join this live special event; those committed to project-based learning will gain information and insights to make the case for this important work.
Students, educators, and researchers will reveal:
A new body of breakthrough research providing evidence that from second-grade through Advanced Placement classes, project-based learning improves student learning with equitable outcomes.
Evidence that students from all backgrounds and socio-economic levels alike benefit from project-based learning in all kinds of contexts.
Examples of how project-based learning can work with virtual remote learning.
Ways in which college students apply a project-based learning approach after high school.
Resources and tools for educators to get started or deepen their work.
Be inspired. Be informed. Don't miss this free, special event.
The event will be recorded, and a link will be emailed after the event to anyone who registered.
The research to be featured during this event was funded by Lucas Education Research, a division of the George Lucas Educational Foundation.
Featured speakers include: