Technology Integration
Opening the Lid on Open Source: Is It Good for Schools?
At NECC, I visited several booths that dealt with the open source software movement. (See my previous post.) I had been using Firefox, an open source browser, for quite a while. I had also just begun to use Mozilla, an open source mail client.
Since NECC, I've been playing around more and more with open source and talking to a few technology coordinators and school-based technology coaches, wondering whether open source could truly be a viable option for schools. Using open source can alleviate some of the huge licensing fees that schools pay, potentially freeing up some of that money for other uses -- more tech-support personnel, higher bandwidth, more technologies to extend into the community, and so on.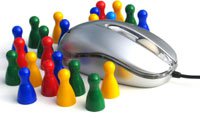 I recently reformatted an older laptop, wiping out all contents and traces of the existing operating system. I installed Ubuntu, a variation of the Linux open source operating system. It was a breeze to install the software, and it took me only a few minutes to get used to the look and feel of my "new" computer. I connected easily to my home wireless network and changed a few options for sound and appearance.
Then came the most important test: I handed it to my ten-year-old daughter and said, "Go online and check your email." She took the laptop from me, began clicking around to try to find where the browser was, and was off and surfing with not a word of instruction from me -- she transitioned in less than a minute. I'm wondering how long it would take our schools to do so. Is open source a viable option? Are there any other converts out there?