Online Learning (Interactive Case Study)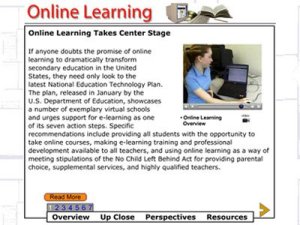 Virtual schools make available a world of new courses -- from obscure electives to AP classes -- that challenge students intellectually and open up new doors educationally. And, thanks to the anytime, anywhere nature of online courses, students with a range of special circumstances (from health issues to job or family constraints) don't have to fall behind or drop out.
Open Interactive Case Study.
This multimedia case study from 2002 captures the early days of virtual schooling. For a more updated look at online learning, visit our 2010 package, "The Brave New Breakthrough of Online Learning."