Project-Based Learning (PBL)
This Old School: Students Reenact History
Third-grade students step back in time at the nation's most enduring one-room schoolhouse.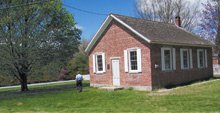 Credit: C. L. Kelly, Courtesy of the Reminder Community Newspapers, Vernon, CT
Tidy Little School: Custodian Paul Lynn goes about his duties at Old Quasset School, the nation's oldest one-room schoolhouse used continuously for its original purpose.
Every year, third-grade teachers at Woodstock Elementary School, in Woodstock, Connecticut, take their students back in time to the 1800s. They move to a one-room schoolhouse, dress in period clothing, adopt old-fashioned names, and learn the traditional way -- by rote or on a chalkboard.
Totally immersed, and bound by a pledge to historical accuracy, they all develop a heightened appreciation of at least one thing. "Indoor plumbing!" says Nancy Zurawka, a third-grade teacher.
Zurawka spends one week each year with her students at Old Quasset School, located on the Woodstock campus in their rural dairy-farming community of 7,750. For her, and for the other teachers who spend five days in their predecessors' shoes, the experience can be mildly uncomfortable -- and a little sobering. "I would have been much poorer and very dependent on the families of my students," Zurawka says. "I also would have been unmarried, because only men could be married and be a teacher."
The state curriculum mandates that third-grade students learn local history, and in Woodstock, the vintage school is an important teaching tool.The original Old Quasset schoolhouse was built some time before 1738. Classes stayed in session regularly until 1943, making it the nation's oldest one-room schoolhouse used continuously for its original purpose. After World War II ended, classes resumed sporadically at Old Quasset until the building was moved to the current school grounds in 1953 and reopened as a museum. (Hundreds of children saved their pennies to finance the preservation.)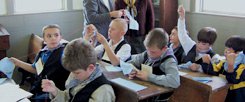 Credit: C. L. Kelly, Courtesy of the Reminder Community Newspapers, Vernon, CT
Stitch in Time: Immersion at Old Quasset means traditional garb, sewing along with math, and boys sitting on their own side of the classroom.
About thirty years ago, third-grade teachers Irene Wheeler, Mary Morgan, and Laurel Braaten proposed using Old Quasset as a regular tool to teach the third-grade curriculum. After gaining approval, they worked with the local historical society to create an immersion program that has become the envy of school districts around the country. The process starts with an autumn field trip to Old Sturbridge Village in nearby Massachusetts, where teachers and children in the program (one hundred or more each year) visit an authentic re-creation of a village as it would have appeared in the 1830s.
Each teacher chooses the week she wants to use the old schoolhouse. Zurawka likes March because it's cool enough to cook on the wood stove; favorite recipes include cornbread, blueberry pancakes, and baked apples with cinnamon. "It usually doesn't look like the modern food they are used to eating," she says. "The picky eaters hold back and then dive in when they see their classmates enjoying it." Students take new names during the experience -- one teacher scoured old headstones in a local cemetery and came up with gems such as Ezekiel and Hezekiah -- and parents are called on to share handcrafting talents. Over the years, students have learned to paint, work a loom, make baskets, and stencil on wood, paper, and fabric.
Once in a while, the teachers deviate from historical accuracy. For instance, both boys and girls learn all the crafts, an exercise that frequently results in important lessons about gender roles. "Every year there's a boy who's a better cross-stitcher or crocheter than the girls, and it dumbfounds them," says Zurawka with a laugh.
Crafts also provide a platform for students to learn more about themselves and their peers. "Often, not-very-good academic students are very good at some of the crafts and activities," she explains. "One of my special-needs students a few years ago really took to crocheting. Not only was he good, he was better than anybody else. I don't know that he had ever had the opportunity to shine like that before."
One Room, Many Lessons: Pupils in Amy Ponte's third-grade class take on "old" names as they learn to embroider. Emily becomes Kristen and Holly becomes Oceanus.
Credit: C. L. Kelly, Courtesy of the Reminder Community Newspapers, Vernon, CT
Traditional lessons are not forgotten. Students do math drills -- by rote -- and spelling is learned with games such as Hangman. Occasionally, the students use antique textbooks, and they study manners, an important part of the curriculum in the olden days. While in the schoolhouse, the girls sit on one side of the room, the boys on the other. They are required to raise their hands, wait to be called on, and stand next to their desks before answering a teacher's question.
Additionally, students are allowed to write only on the chalkboard or with quill pens. Every morning, they practice fancy nineteenth-century script by copying the alphabet or reproducing passages from Poor Richard's Almanac. "I tell them about ponytail dipping in the inkwell, but fortunately we haven't had any of that," reports Zurawka.
Dressing for the role-playing is a burden for some students, says Irene Wheeler, now a third- and fourth-grade reading teacher. The boys wear straw hats and plain button-down shirts, and they must tuck their dark pants into their socks to simulate wearing knickers. The girls don long skirts with aprons, plus mobcaps or bonnets. Some of the tomboys in the crowd protest loudly, says Wheeler, but exceptions aren't made for comfort.
At least they don't have to adopt the lifestyles of the children they emulate, she says. "Back when the school was built, children got up early in the morning and helped with chores, went to school, came home to more chores, maybe had a half hour before supper to play, then had to do homework and go to bed. Today's students do realize how lucky they are."
Wheeler, as the school's curator (in addition to being on its advisory committee), encourages teachers interested in starting a similar program to collaborate with their state or local historical society (see "How To: Breathe Life into History"). "Start small," says Wheeler. "This program started with one teacher who had a deep love of history."
Even with a few headaches in the beginning, adds Zurawka, it is worth the trouble. "The hardest thing for students to understand about the past is keeping everything separate," she explains. "The Mayflower, the Civil War era, and their grandfather fighting in the Vietnam War -- they are all blurred into one. The third-grade mind is still working in such a concrete way that history is pretty abstract."
The Old Quasset immersion program takes the abstract and gives it definition, emotion, and meaning. Says Zurawka, "It's a magical week for everybody."
Don Lipper and Elizabeth Sagehorn are freelance writers.
Count Your Eggs
Every week at Old Quasset School, a puzzle is written on the blackboard for the students to figure out. Back in 1897, if a prospective teacher was not a college graduate, she or he had to pass a test featuring this sticky math question to get the job:
Three boys have some eggs to sell. Boy A had ten, boy B had thirty, and boy C had fifty. They all went to Putnam to sell their eggs. When they came home, they had sold their eggs for the same rate, and they all came home with the same amount of money. How much money did they sell their eggs for, and how much did they bring home?
"At the beginning of the week, we give them the question," says Woodstock Elementary School teacher and Old Quasset School curator Irene Wheeler. "Most just wait for the answer, but some go home and work on the problem with their parents. We've never had anyone come up with the same answer, but, according to a math professor, the puzzle is so open, several answers could be correct."
One nineteenth-century teaching applicant was told he could take an hour to answer the question. He couldn't finish in time and asked to take it home. After coming back with the answer -- a month later -- he got the job.
Answer: The rates were seven eggs for 5 cents and single eggs for 15 cents. Boy A had ten eggs. He sold seven for 5 cents and three for 15 cents each: 5+45=50. Boy B had thirty eggs. He sold four sets of seven eggs for 20 cents each and two for 15 cents each: 20+30=50. Boy C had fifty eggs. He sold seven sets of seven eggs for 5 cents each, and one for 15 cents: 35+15=50.
Go to "How to Breathe Life into History."