Professional Learning
Required Reading for Summer: "The Beach Book"
Sunscreen, towel, the ocean, and a good book. Now that's a summer day.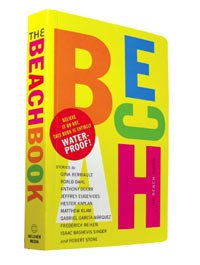 Credit: Melcher Media
The endless and inescapable lure of the ocean, combined with the imminent possibility of a big dollop of sun, fun, and cocoa butter during summer break, makes this a perfect moment to pick up The Beach Book (Melcher Media/254 pages/$17), a collection of ten evocative short stories that use the ocean as both mysterious backdrop and hard-charging protagonist. As an added bonus for beachgoing readers, the book is constructed of a waterproof synthetic paper, making it virtually impermeable to water and sand.
The Beach Book is designed for languid summer days, but don't wade into it expecting breezy escapist fare. Churning waters, whether it's the crystalline Caribbean or the turbulent Pacific, often add a note of dread. The sea frequently behaves like a moody neighbor, serving up natural disasters (both animal and meteorological) and hosting suspicious and sometimes dangerous characters.
Writers include Gabriel Garcia Marquez, Roald Dahl, Isaac Bashevis Singer, Robert Stone, Anthony Doerr, and Frederick Reiken. Throughout the book there runs a deep love and respect for the water, whether in Dahl's ecologically sensitive story of a boy who fights to save a sea turtle from becoming a meal, or in Singer's droll look at a man trying to make money with beachfront property.
Don't forget the sunscreen when you're heading to the shore this summer. But don't forget The Beach Book, either. Just because your body is on vacation doesn't mean your heart and mind have to be.
James Daly is the former editorial director ofEdutopia.