Project-Based Learning (PBL)
Not Your Father's Voc Ed: High School Classes Reinvented
Career academies bridge the school-to-job gap, while attendance and graduation rates skyrocket.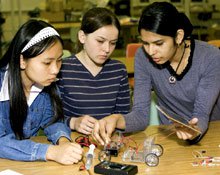 Credit: Eric Whalen
Future Tinkerers: Hiram Johnson High School students Tran Vo (from left), Sylvia Caus, and Shalveena Dayal build a model solar-powered fuel cell car.
Five years ago, high schools in the Sacramento City Unified School District were at a crossroads. Declining test scores signaled a systemwide crisis. Students lacked motivation; curricula failed to inspire. The time had passed for a program of modest change. Instead, school officials decided, a radical shift was needed.
"The high school system hadn't changed since the 1950s," says Mike Brunelle, director of the SCUSD's Adult, Career, and Technical Preparation Division. "We were way behind the times. We saw that we could make powerful teaching improvements and learning opportunities for the kids."
Taking a cue from a number of public and charter high schools across the country, administrators in charge of the eleven high schools in California's capital city opted to reorganize the system around a school-to-career theme. As part of a $14 million redesign, all 12,000 high school students in the district would undergo career education in small "career academies" within the existing schools. They would be invited to choose a specific subject area as a context for their studies, and it would last all four years of their high school career. Their options, covering most sectors of the working world, included arts, media, and entertainment; business and information technology; engineering; government and public service; health and medical services; human and legal services; and humanities, education, and leadership.
"We had a district sending only 23 percent of its kids to college, and we determined that for the other 77 percent of the kids, we needed to do something to make their lives meaningful," explains Brunelle.
Evidence collected from similar programs around the country indicates that Sacramento school officials made a wise choice. In one Philadelphia district, for instance, nearly 30 percent of school-to-career students have a grade point average of 3.0 and higher, compared with 19.8 percent of the general student population. Attendance for students in that program was 87.5 percent, almost 10 percent higher than the district average, and only 3.4 percent of students in academies there dropped out of school -- less than one-third the figure for students districtwide. In addition, graduates from the Philadelphia program are 40 percent more likely to enroll in a fouryear college than nonacademy students in the same school district.
"And college isn't the only option for students," says Dana Jenks, a physics teacher at Hiram Johnson High School, in the Sacramento academies system. "Sometimes a vocational field is just as good. In fact, they may have a better income and enjoy their work more."
Start Your Engines:
A complete model car takes center stage during a meeting of Future Women of Science and Engineering at the Sacramento school.
Credit: Eric Whalen
But this is not the vocational education of decades ago, when students had to choose between classic high school academics and narrow technical training. What makes these school-to-career classes different is that students are learning core concepts, such as algebra and English composition, through the lens of their chosen field. For example, students in the medical track in a Sacramento high school might have a math problem that involves calculating drug dosages. Criminal justice students hone their written English skills by composing police reports or case memos.
Jenks believes that applying abstract ideas to real-world situations ingrains key concepts in young minds. "I think they are learning deeper thinking and applying it to something that is relevant to them," says Jenks. "When my students finished with the STAR standardized test, they said, 'Wow, it was easy!' That's the first time I've heard that."
Hiram Johnson is unique within the Sacramento constellation of career academies because its engineering track is focused on transportation. Even more distinct is the specific project that students in the program are involved in: They work with the state's transportation engineers and top auto designers on the next generation of fuel cell vehicles, benefiting from resources and advice from the California Fuel Cell Partnership.
"The career opportunities in transportation are so vast," says Kelly Hassenplug, Adopt-A-School program administrator for the California Department of Transportation. "Caltrans is the second-largest department in the state."
So far, it is difficult to know exactly how effectively a program such as the one in Sacramento high schools can be in helping students take advantage of employment opportunities. "We see a lot of these programs springing up," says James Stone, director of the National Research Center for Career and Technical Education Studies, a consortium of seven universities studying career education. "But, because many schools and districts use different methodology, firm numbers are hard to come by. Generally speaking, though, career education works."
Veterans of the programs maintain that it works only in schools or school districts with highly motivated and resourceful supporters. It also helps to have an infusion of funds, but dollars usually aren't as vital as doers, they say. "I have seen these programs started with no extra money -- just a group of teachers who got the religion and worked together to create a coordinated career context for their students," says Louise Stymeist, the SCUSD's Regional Occupational Program director.
Sacramento school district officials met with parents, teachers, and students -- as well as community members and business and industry leaders -- for months to discuss the school-to-career approach for their high schools. "We conducted a lot of research and concluded that a school-to-career approach is a better way for students to learn," says Stymeist. "But it took a couple years of looking at all the possibilities before we decided what the adventure was going to be."
Key to that adventure has been the practice of employing an academy leader called an entrepreneur who makes connections between schools and businesses. That person, often someone from the private sector who now works for the school district, schedules guest lectures and organizes job shadowing, field trips, and internships. These liaison personnel also educate teachers about the jobs, resources, and requirements in a given field. Most important, perhaps, is the entrepreneur's demonstration of an essential skill set for any enterprise: relentless sales and marketing.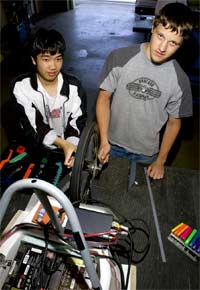 Credit: Eric Whalen
Pit Stop: Hiram Johnson High School student Julian Xin C (above left) and Nick Buell fine-tune the alignment on a three-wheel solarpowered racer.
"Without education entrepreneurs, it would be impossible to make the business contacts to make this run right," says Hiram Johnson physics teacher Jenks. For example, Larry Loban, who supports eleven small learning communities that deal with engineering, has pulled in grant money, speakers, and mentors. Says Jenks of Loban's help, "I'm looking at fifteen fuel-cell-car kits that cost $150 each, and we didn't have to pay for those."
Loban, for his part, doesn't mince words. "We eat what we kill," he says. "We have no funding." He and his fellow entrepreneurs generate an estimated $1 million for the school district annually.
"You have to consider that most of that is in-kind donations, coming from people's time and energy and the materials they use," says the SCUSD's Brunelle." It doesn't add dollars to your school budget -- although sometimes you get access to grants you wouldn't have otherwise. The real benefits come in the classroom."
Fortunately, Loban and other entrepreneurs can count on the desire of local businesses to interact with the academies for reasons above and beyond the call of civic duty. By donating money, course materials, personnel, and time, area companies get a public relations boost, as well as tax deductions and recruiting advantages.
Yet, even with the help of entrepreneurs and their contacts, academy teachers have new, and initially burdensome, responsibilities. "It is more work," says Jenks. "You can't always use what the state has prepared. You have to make your own lesson plans. There's a lot more equipment preparation and labs, and skills I have to learn."
Jenks estimates that one-third of the course materials come from the teacher, another third from state texts, and the rest from business partners. Once they have those materials, academy educators have to work in cross-disciplinary groups to make sure their lesson plans support each other. "One of the things that's been difficult has been moving away from being autonomous in my class -- just closing the door and doing what I want," says Jenks. "Moving to more collaboration has been pretty difficult for some teachers. You need to align with what they are covering in English, social studies, and math so that everyone is singing the same song at the same time.
"Anyone can take this approach," she adds, "but you've got to want it."
Once the meticulous weaving of the core curriculum into career study is done, the results are fascinating. At Hiram Johnson, one classroom holds a large wooden structure that constitutes a three-dimensional "poem": Kids can walk through the structure to read what is written on its walls. When tenth-grade students study the development of democracy, their science class covers how scientific advances shaped the political landscape. "We talk about storming a castle and look at the physics of the conservation of energy in trebuchets and catapults," says Jenks.
It Takes a Village:
Julian takes the wheel as classmate Nick and teacher Carl Cripe look on.
Credit: Eric Whalen
In another classroom, decorated with airplane-control diagrams and electric-car schematics, teacher Carl Cripe (a former U.S. Air Force master sergeant) keeps an eye on students putting the final changes on the electric car they hope to enter in a design competition. Students drag various kinds of tires behind spring scales to measure their strength, a process designed to figure out the best materials for their electric car's wheels.
"A project like this allows us to teach things almost on the sly," says Cripe. "These students are learning about strength of materials, structural design, electricity, mathematics, Newtonian physics, aerodynamic force, wind resistances, rolling frictions.
"Setting up that triangular chassis of a car is a trigonometry problem," he says quietly. "They are learning trig, and they don't even know it."
Don Lipper and Elizabeth Sagehorn, the writing team behind WriteTheFirstTime.com, have written for magazines such as Time, People, Money, In Style, and Premiere.