Project-Based Learning (PBL)
New Technologies Link Ancient Cultures
The First Peoples' Project enables native children around the world to exchange lore and learning online.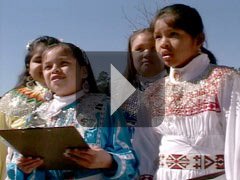 VIDEO: First Peoples' Project: Native Children Distribute Their Cultural Wealth
Running Time: 6 min.
Editor's Note: The Choctaw Tribal Schools no longer participate in the First Peoples' Project. Find out about their past work and other contributions to the project.
They huddle together on the playground, giggling behind clipboards, shyly rehearsing the interview questions they are about to put to their elders in a jumble of English and Choctaw. "Why did you start chanting?" "What stories did your grandmother tell you?" "What's your favorite Choctaw dance?" For this group of students from Pearl River Elementary School, in Philadelphia, Mississippi, the interviews provide information about their tribe's rich history they won't find in any textbook. Moments after their interviews, the students will present their stories and digital photographs to a global audience, as part of the International Education and Resource Network's (iEARN) First Peoples' Project.
Indigenous students on five continents share their stories, poems, photographs, and artwork, displaying them on the Internet and exchanging packages through the mail once a year. The Mississippi Band of Choctaw Indians, which runs the largest and one of the most tech-savvy tribal school systems in the country, has participated in the First Peoples' Project since its inception in 1997.
"We explored various science projects and a variety of directions to go with iEARN, and our kids felt more comfortable with working with indigenous people," says Choctaw First Peoples' Project coordinator Bob Smith. "This project prods us to research and get the kids working in areas that are significant here at home, like communicating more with their elders."
The First Peoples' Project has spawned the Indigenous Global Art Project and an ongoing humanitarian effort, which has raised thousands of dollars for everything from blankets to scholarships for a school in Thailand. Significant contributions to the fund have come from the Choctaw community, where gaming revenues and other economic initiatives have fueled a school-building boom and the proliferation of technology in the classroom. But "prosperity" presents a new set of challenges. "I don't want kids to stop playing stickball or forget about traditional dancing and cooking, or speaking their own language," says athletic instructor Jason Bell. "I hope we can influence these kids that we need to keep our culture alive for the next generation."
By putting digital stills of their classmates dancing and playing stickball on the First Peoples' Project Web site, these students have learned to use the newest technology to celebrate their timeless culture and share its wisdom with the rest of the world. Back on the playground, the elder smiles as he ponders the fifth grader's question. "My favorite dance? Snake dance. You know how a snake maneuvers around? That's how life is. Life is not always a straight road. That's what the snake dance reminds me of."
The First Peoples' Project (incorporating the Humanitarian Effort), developed by students and teachers at Australia's
Bairnsdale Secondary College
, is coordinated through Bairnsdale under the auspices of the nation's Department of Education, Employment, and Training, the Global Classroom Project of the Australian state of Victoria, and iEARN Australia.
Ken Ellis is executive producer ofEdutopia video.