Professional Learning
A New Take on an Old Neighborhood: The Hip and Historical in New York
Manhattan's Lower East Side moves from grit to glamour.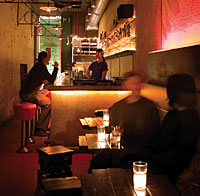 Credit: Klaus Schoenwiese
At the Crudo Bar (54 Clinton Street), the night starts late and ends early -- early next day, that is. Yet before this after-hours joint fills up and the DJ starts spinning, it's a lovely, friendly space to mellow out.
I'm dining on a suspended island surrounded by a soothing current of water in a room one floor below ground level in Lower Manhattan. My entrée is the exotic dorada à la plancha, a delicious grilled fish, and my cocktail is an absente mojito, which features the 110 proof liqueur poured over a flamed sugar cube -- limit one per customer. I am at Suba, a tapas restaurant located in the once-gritty Lower East Side, enjoying a new ethnic culinary experience in one of New York City's oldest neighborhoods.
Though the Lower East Side is best known as the landing place for hundreds of thousands of immigrants who came to the Big Apple in the 1800s, today it is undergoing a commercial and social renaissance. Shopping boutiques, restaurants, lounges, and poetry readings now spice up an area once jammed with tenements.
Originally, the moniker referred to an area running along the East River from about the Manhattan Bridge and Canal Street up to 14th Street, and roughly bounded on the west by Broadway. Within those confines, families from Russia, eastern Europe, Italy, and Ireland crammed into walk-up tenements originally designed as single row homes. Businesses were often run out of potato sacks or pushcarts on noisy and crowded Orchard Street.
A tribute to this colorful age is vividly created at the Tenement Museum, a five-story building that was home to thousands of immigrants throughout the past century. The museum tells the story of the lives of families who once made this place their new home, fighting the grim circumstances that pervaded their search for the American Dream. It was those squalid conditions of life, including overcrowded rooms and inadequate sanitation, that led to the history of social activism the Lower East Side is famous for, from the Association of Improving the Condition of the Poor, founded in 1843, to the punk and hardcore subcultures of the 1970s and 1980s.
In addition, although the principal ethnicities have changed -- today, many residents are from Latin America and Asia -- the Lower East Side's immigrant subculture remains vibrantly alive. If Suba represents the new international experience, Katz's Delicatessen serves as a tasty reminder of the neighborhood's working class roots. Katz's, established by a Russian immigrant family in 1888, has been making chubby pastrami sandwiches and hot dogs for customers ever since.
Surveying the menu and trying to choose between noshes and a full-blown sandwich might get you into trouble if you deliberate too long. Know what you want when you reach the counter, and choose the proper ordering line to stand in. Katz's has a well-honed system, and the staff doesn't appreciate it when you mess it up. It is the personality of Katz's that is perhaps the most notable element -- a palpable attitude derived from a work ethic that is short on patience but high on quality.
While you're stuffing yourself, look around. If Katz's looks familiar, perhaps it's because it has been used as a location in a number of movies. Most famously, Katz's was the site of Meg Ryan's famous fake-orgasm scene in the romantic comedy When Harry Met Sally. The deli's management is proud to market the factoid on its Web site and in the store -- the table at which Ryan and costar Billy Crystal sat is clearly marked -- though it claims that it was Katz's brisket that caused her character's outburst. In a neighborhood this exciting, who's to say it's wrong?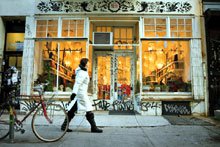 Credit: Klaus Schoenwiese
TG170 was the first boutique in the Lower East Side when it opened on Ludlow Street in 1992. It sells Freitag messenger bags, local designer clothing, and accessories.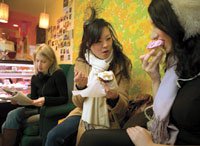 Credit: Klaus Schoenwiese
Ever since the Sex and the City pilgrimage lines made the West Village's Magnolia Bakery not just a hit but a battleground, the sugar Sweet sunshine Bakery, at Rivington and Essex streets, has become our sugary retreat. Dare we say it? The cupcakes there are better.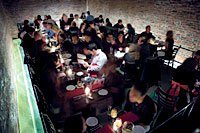 Credit: Klaus Schoenwiese
Suba, at 109 Ludlow Street, features a subterranean pool for a dining room -- it's empty, so swimming attire is not required -- and a stylishly sparse lounge where you can wait for your party or for your turn to be seated.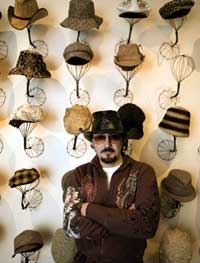 Credit: Klaus Schoenwiese
For hat designer David Rodriguez, little, it seems, cannot be done with a standard-edition sewing machine. At Casa de Rodriguez, at 156 Stanton Street -- where your head meets the hip -- he and his wife, Jody, sew, display, and sell an amazing repertoire of high-quality creations.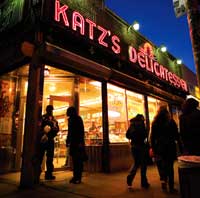 Credit: Klaus Schoenwiese
Katz's Delicatessen, the historic landmark diner located at the corner of Ludlow and Houston streets, draws equal numbers of locals and tourists. At Houston (pronounced HOUSE-ton), the Lower East Side meets the East Village. Night or day, there's never a shortage of cabs or fares at this major east-west artery.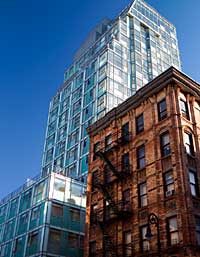 Credit: Klaus Schoenwiese
As if to make a point about the neighborhood at large, the modern glass-andconcrete tower of the Hotel on Rivington creates a surprising clash of styles -- where both the old and the new end up looking better than ever.