Assessment
Never Too Young: The International Baccalaureate Program Goes Down a Grade
The IB movement sets the focus on younger classrooms.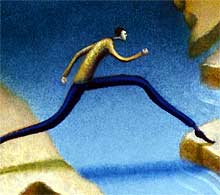 Credit: Paul Cozzolino
This article accompanies the feature "Global Superpower: Is the Best of the Best Really the Best?"
Step into any classroom at the Rosemarie Ann Siragusa School, in Yonkers, New York, and you hear the familiar strains of lessons that take place at elementary schools throughout the state. First graders unfurl tape measures. Third graders read about New World explorers. Fifth graders study climate.
But spend an hour, scan the children's notebooks, and discover an alternative educational cosmos. The six-year-olds don't simply chart their height; they also answer the question "How does measurement affect my life?" The eight-year-olds reflect on an explorer's experience through his eyes: "How do you feel about exploring? Who sent you? Why did you go?" The ten-year-olds go beyond rainfall totals to ponder, "How does climate shape the development of cultures?"
Siragusa represents the newest front in the IB movement: a push to bring the program into the lower grades. Nationwide, 168 middle schools and seventy-two elementary schools are IB World Schools. In 2006 alone, more than one hundred of them took the first step in the long process to win IB authorization.
The IBO launched the Middle Years program in 1994 and its Primary Years counterpart four years later to create a continuum to high school IB. Officials hope to groom a new, diverse generation of diploma candidates by exposing them early to IB's hallmarks: independent inquiry and a global mind-set. But if IB offers young kids a passage to the future, it gives their teachers and principals a comprehensive tool for today. The strong philosophy and curriculum framework can help a good school to be great, or a foundering school to focus on change.
"I fell in love with the program the first time I heard about it," says Ada Petrone, Siragusa's principal.
Unlike high school IB, the lower-grade version takes the whole-school approach; it's IB for everyone, all the time. Character development, an implicit aim of the Diploma Program, is the explicit goal in the early years. An IB elementary school announces the attributes it hopes to inspire and instill: Graduates will be thinkers, communicators, and risk takers who are knowledgeable, principled, caring, open minded, well balanced, and reflective.
Schools build curriculum around six broad themes: who we are, where we are in place and time, how we express ourselves, how the world works, how we organize ourselves, and how we share the planet. In keeping with the global emphasis, students study foreign language from the beginning of the program to the end. (At Siragusa, where more than half of the 430 students are Spanish speakers, all kids in grades 2-5 take Italian.) Teachers may use a traditional didactic approach to teach basic skills. "We can't forget that children have to learn to read and write," says Marlene Feder, Siragusa's IB coordinator. But students work largely independently or in groups, researching questions, doing hands-on projects, and writing reflections -- every day -- on what they have accomplished, what they want to know, and how they will set about learning it.
"IB sees teachers as facilitators," Feder says. "We have to learn to step back a little and keep our mouths shut."
Fran Smith is a contributing editor for Edutopia.