Technology Integration
The Art of Networking on Campus
In my travels for work and pleasure, I have hunted agates in Scotland, searched for flints, arrowheads, and fossils in Wyoming, Texas, and Oregon, and brought pieces of obsidian home from Japan. Yes, I am an avid rock collector. But this posting is really about people and schools, not rocks.
The best part of my geological hobby is that I get to see the areas I visit up close and personal. Several years back, following an early August day working with teachers in southwest Wyoming, I took a drive through what we Mainers would call the sticks -- small roads, few houses, and lots of open space.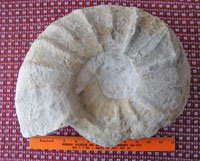 Credit: Jim Moulton
In places like Wyoming, my experience has taught me that dark material in the land means organics, and so I pulled over and stepped a few paces up the incline to see what was up. The exposed dark band, about 20 inches deep, was an almost solid mass of snail and mussel shells. One could have filled a trashcan in mere minutes. These fossils -- three species, and mostly in pristine condition -- are millions of years old! Oh my goodness, I thought. I collected about 20 fine samples and continued on my way.
On a trip once to California, I had a day free, so I sent an email of introduction to a local rock club. I received a reply that reminded me I was going to be in the Mojave Desert. It read, "In summer, folks don't do a lot of rock collecting -- simply too hot." The email also contained contact information for Lucy Tunnell, of Rosamond, California.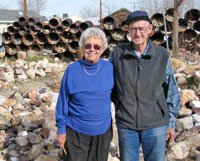 Credit: Jim Moulton
Lucy and Bob Tunnell
Lucy is now retired, but she has been collecting rocks professionally for years and I was told she might be willing to entertain a visitor from the other coast. I called Lucy and explained myself, and so it was that I arrived in her yard around 8:30 that first morning. I now count Lucy as a friend, have visited her several times, and have learned so much from her about petrified wood and other geological topics.
There is lots of limestone in Fort Worth, Texas, and limestone means marine fossils. So, when I was recently heading there for work, I was understandably looking forward to a bit of rock collecting. But to find something, you need to know where to look. I had checked the Internet before departing and found a wonderful Web site describing what might be found. But it was short on specifics of places to look.
So, as I hopped on the shuttle bus at the airport, I decided to ask the driver. "Excuse me," I began. "I'm a rock collector, and I read that you can find fossils in this part of Texas. I have only the afternoon, so I wondered if you could give me any pointers on where I might look?" I wasn't asking a paleontologist, I wasn't asking a geologist, and I wasn't asking the tourist board. I was asking the shuttle driver. And it turns out I chose the right guy.
"Sure," he replied. "Lots of fossils around here. I grew up down by Granbury, Texas. That's about 45 or 50 minutes from Fort Worth, and we used to find lots of them down in the creek beds. Here, let me draw you a little map."
And that was it. And what a day I had. Discovered at a road cut on Route 377: fossilized oyster shells, sea urchins, sea biscuits, and a nice piece of petrified wood along the Brazos River. But the mother of all finds was a nearly intact, dinner-plate-size, 45-pound ammonite.
Now, let's go back to school and make a connection. You see, I think the shuttle driver is sort of like the custodian, or the secretary, or the lunch ladies, in so many schools: They are the lifeblood of the school. They know it all, literally -- inside and out. Chances are they grew up in the community where the school is located and are well connected in the area. Teachers and administrators are often commuters, but secretaries and other staff are often not.
So, here is my question: How have you tapped these often-overlooked human resources to help you do more for your kids? What has the custodian done for you and your kids beyond the important job of keeping things clean? And, yes, the lunchroom staff makes sure everyone gets fed, but do you ever talk community resources with them? And how lately have you utilized the school secretary, who, in so many cases, is a wealth of community history and connections?
Think beyond the traditional roles of these positions, as I did when I asked the shuttle driver to be my paleontological resource. And please share how you and your kids have benefited as a result of your taking the time to ask a custodian, a bus driver, a lunchroom worker, or a secretary some curriculum-based questions. Oh, I just can't wait to hear!