Social & Emotional Learning (SEL)
Mural Arts: Youth Programs Paint the Town
In the City of Brotherly Love, at-risk kids trade pain for paint.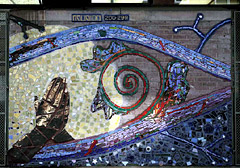 Credit: Jack Ramsdale
Dewey's World: By Jennie Shanker, Paul Santoleri, and Mural Corps youth.
The next time you're in Philadelphia, prepare to be impressed by its multitude of murals: The Ramonita G. de Rodriguez Branch of the Free Library of Philadelphia, for instance, now shines with a glittering mosaic illustration of the Dewey decimal system. And this is just one of thousands of murals scattered throughout the city's most downtrodden communities, thanks in large part to an arts-education organization and more than 3,000 young people -- ages ten to twenty-one -- who get involved each year.
Philadelphia's Mural Arts Program sprang up twenty-three years ago as part of the Philadelphia Anti-Graffiti Network. The PAGN's mission, to address neighborhood blight, still holds, but MAP adds to this the creation of enduring murals in partnership with artists, local communities, and at-risk youth. Today, MAP, which in its two decades has produced more than 2,700 murals throughout the city, hosts five youth programs, all free and funded by the volunteer-run nonprofit organization Philadelphia Mural Arts Advocates, as well as corporate and government sponsorships.
The programs include the Big Picture (year-long muralist training), the Mural Corps (mural designing and painting for fourteen- to twenty-one-year-olds who have typically already spent time with MAP), ArtWorks! (providing academic assistance and job readiness, as well as art instruction, for at-risk youth), the Adolescent Violence Reduction Partnership (mural making to foster communication between police officers and youth), and ARTscape (a way for adjudicated youth to serve court-appointed community service hours through mural making).
Though all these programs are based on a rigorous arts-education curriculum and are led by prominent local artists, students gain much more than just technical skill in the arts. "Art is the tool, the avenue," says Kathleen Ogilvie, MAP's director of art education. What happens here is the birth not only of a new crop of artists but also of a generation of young people who believe in themselves. Participants learn about art, but, more significantly, they learn how to speak about it, how to work collaboratively in teams of their peers and mentors, and how to feel dedicated to their communities, all the while acquiring skills instrumental to both their personal and professional lives.

Credit: Donald Gensler
All Join Hands: Visions of Peace: Lead artist Donald Gensler, with youth from the Mitchell Program at St. Gabriel's Hall, the E3 Mural Corps Program, ArtWorks!
Murals that students help create run the gamut from the beautification of a railroad underpass to a citywide project with a deep message. All Join Hands: The Visions of Peace Project is just such a one -- Benjamin Franklin High School now displays evocative imagery that pleads for the need to end youth violence.
Participation in MAP, for many, is sustained. Some students stay in the program for years and progress from reluctant members of ARTscape to major assistants on current mural projects. "This is a second home for them," says Ogilvie. "We've had students who have run away from home, but this is the place they keep coming to."
Though at-risk and delinquent youth may be a difficult population to keep engaged, Ogilvie adds, "there's honestly no real difference between these students and any other group of students." Like all people, she says, "they just need someone who believes in them."
Sara Bernard is a former staff writer and multimedia producer for Edutopia.