Professional Learning
Two Decades of Wisdom on School Leadership
When I think back to middle school, which was Junior High back in the day, two things stand out about my principal, whom I'll call Mr. G. I don't ever remember seeing him smile, but I vividly recall being frightened of his ruler. No, Mr. G. didn't use it to slap our wrists -- that would have been preferable. He employed it as a modesty monitor, ordering girls he passed in the hall to get on their knees while he measured the distance between the floor and the hem of their skirts. Too short and it was off to the office, a phone call to mom, and a wait of shame until she arrived with more appropriate attire.
I thought of him during a recent visit to Helen King Middle School in Portland, Maine, to report on our Schools That Work series. That's where I met principal Mike McCarthy. He not only smiles, he has a wicked sense of humor. (If you ever get to meet him, ask about how he almost got kicked out of St. Patrick's school in second grade for telling the Sister he'd rather not color.) McCarthy greets students by name in the hallways. He respects his teachers so much that they get to arrange their own schedules to ensure there's enough time for the collaborative, interdisciplinary education that has made King the flagship of expeditionary learning.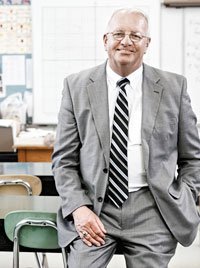 Credit: Michael Warren
And, in a profession where the average tenure at a school is less than five years, McCarthy has been principal of King Middle School for 22 years.
To those who know him and have worked with him, it's no surprise that the Maine Principals' Association just named Mike McCarthy the state's Middle Level Principal of the Year. He's now a two-time recipient of this honor. In announcing the award, the Association cited McCarthy's "outstanding leadership and his unequivocal commitment to excellence in educating all students."
I witnessed a snapshot of those qualities during my visit, and immediately knew that he needed to share his strategies. The result is Mike McCarthy's "Ten Big Ideas of School Leadership" showcased in our current Schools That Work profile on project-based learning.
Since you've read this far, I'll reveal McCarthy's 11th Big Idea for School Leadership, borrowed from "The Old Perfessor" (a.k.a. Casey Stengel): "The secret of successful managing is to keep the five guys who hate you away from the four guys who haven't made up their minds."
-- Kathy Baron, Features Producer, Edutopia