Professional Learning
Opera Hits a High Note: Student-Outreach Efforts Tap Technology
A great musical form finds ways to create young fans.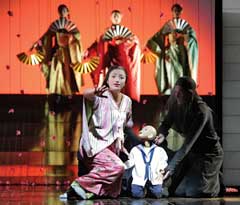 Credit: Courtesy of the Metropolitan Opera
By 2000, opera in America was a dying art. While thousands crowded into sports stadiums to hear rock and roll's golden oldies, audiences for the greatest hits of Mozart, Verdi, and Puccini were a sea of gray hair. Though younger generations still produced fine singers and dedicated musicians, interest in such classics as La Boheme and Don Giovanni -- and even modern works based on contemporary literature -- seemed confined to the Social Security set.
But then came the revolution: Opera saw the future, and realized drastic action was needed. Today, fans can catch high-definition simulcasts of productions by New York City's Metropolitan Opera in nearly 800 movie theaters worldwide, including some in the Czech Republic, Puerto Rico, Sweden, even at a kabuki theater in Japan. If they want to attend opening night free, they can watch a live simulcast of Donizetti's Lucia di Lammermoor in Times Square. (See "Opera To Go: The Met Offers High-Definition Live Transmissions.")
The chances for teachers and parents to make the opera-student connection affordably and in more familiar ways are on the increase. As Karen Karp, the Met's marketing director, puts it, "We now deliver entertainment to you in ways you're more accustomed to, in order to soften the barrier."
On the Really Big Screen
Longtime fans and newbies alike can cheer great performances on the Jumbotron at the San Francisco Giants's AT&T Park or revel in Rigoletto on a huge screen at the city's Civic Center plaza. The Met and other American opera houses are expanding their bases and offering opera to the people with the hope that many of them will be younger than the typical audience and in time will rejuvenate opera's fan base.
"True demographic change takes a lot of time," Karp says. "It's not going to happen in two years; it's a five- to ten-year effort."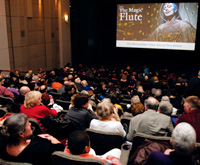 Credit: Courtesy of the Metropolitan Opera
A century ago, opera was considered popular entertainment. In recent years, however, with ticket buying on the wane and competition from a vast variety of entertainment, the venerable form seemed as doomed as Madama Butterfly. A Metropolitan Opera House survey from 1999-2000 found the subscriber's average age was sixty; five years later, the figure had increased to sixty-five.
For generations, opera houses reached out to schoolchildren, through music courses and seats at dress rehearsals, but, however commendable, that approach wasn't sufficient to significantly increase the young audience. And with the shrinking of school music budgets, opera houses could no longer depend on teachers to introduce classical music to the kids who would eventually become the paying public.
When Peter Gelb took over the Met in 2006, he declared that if operadidn't become more accessible, it was heading for extinction. Gelbquickly hired film director Anthony Minghella (The English Patient, Cold Mountain) to guide Puccini's Madama Butterfly.
New Tools for Old Tunes
The very technology that was crowding out opera has been adopted to create buzz and new enthusiasts. Gelb borrowed techniques from television sports (for the running cameras) and rock and roll (for the simulcast technology that brought a 2003 David Bowie concert to three continents).
Julie Borchard-Young, once head of international marketing for Sony and now director of worldwide high-definition distribution for the Met, says that this year, the New York company will simulcast to nearly thirty countries, including Estonia and Finland. If this approach can serve as a template for other opera companies, the results could be impressive. Last year, the Met sold 850,000 opera house tickets, but its simulcast sales totaled almost a million.
The price of entry for the simulcast is reasonable, making student and teacher attendance far easier. In the United States, adult tickets for "Opera at the Movie Theater" sell for $22 ($15 for kids). During intermissions, both the San Francisco and New York operas present backstage interviews, talking not only with stars but also with unseen cast members, such as animal trainers, to demystify opera. Now that the price for "cheap seats" at the opera theater box office have been lowered to $15, opera doesn't cost much more than a movie like Shrek.
Stepping Up to the Plate
Slugger Barry Bonds is no longer a prime attraction for San Francisco baseball fans, but last year the Giants teamed up with the city's opera company to present another famous strongman, the hero of Samson and Delilah, by Camille Saint-Saens. As the ancient tale of seduction, treachery, and revenge played on a 103-foot screen in high-definition audio and video, 23,000 people watched and listened. "I get high just thinking about it," says Marcia Lazer, the San Francisco Opera's director of marketing.
The hunt for converts continues. Now, the San Francisco Opera offers condensed, family-friendly, English-language productions of The Magic Flute and The Little Prince. In New York City, the Met transmitted live operas to five public schools, each equipped with state-of-the-art movie theater equipment.
Online, though, the conversion has been spotty. The Houston Grand Opera blog hasn't been updated for a month. The San Francisco Opera's Facebook page has less than 200 friends. And no company seems to have taken advantage of YouTube yet, though searching for individual opera stars can bring up snippets of their performances.
However, this fall, the Met's Web site will begin Met Digital, streaming on demand from the Met's audio and video library for fees that will be announced at launch but opera officials say will be reasonable. Other companies will no doubt follow suit, as the Internet is where the young audience can be found. Can Second Life avatars singing arias be far behind?
"What we have is an amazing product," says Matthew Shilvock, the San Francisco Opera's general director, "if we can package and expose it to people in the right way."
Carol Pogash is a former writer for the San Francisco Examiner and Forbes ASAP whose stories appear frequently in the New York Times.