Professional Learning
CARE Program Teaches Educators to Manage Their Emotions
Teachers learn how to cope with stress through mindfulness and meditation.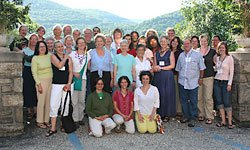 Photo courtesy Garrison Institute
Teachers at a CARE training retreat at the Garrison Institute
Rosa Fernandez-Fraser, a Spanish teacher at Charles O. Dickerson High School, in Trumansburg, New York, knows when she's about to react to a stressful situation: A feeling of heat spreads through her stomach, and she feels a flush coming on. But rather than succumb to a knee-jerk response to the situation, she stops and takes a few breaths. This simple act allows her to retain her composure and keep her class on track.
Recognizing her own physical cues and acting on them is one of the tools she's learned at a teacher-training program called Cultivating Awareness and Resilience in Education (CARE), held at the Garrison Institute. Located about 50 miles north of New York City in a former Franciscan monastery built in 1932, the institute teaches mindfulness techniques as a way of dealing with high-stress situations. The institute's Initiative on Contemplation and Education (ICE) aims to help teachers improve the classroom environment using those skills.
During 37 hours of intensive workshops, teachers form a community and learn how to identify and manage their emotions rather than react to them the way they have in the past. They also learn how to reduce stress, improve their emotional awareness and mental concentration, and elicit responsiveness from students. Workshops include role-playing and hands-on learning of contemplation practices, such as walking meditation, breathing exercises, attention training, visualization, and deep listening.
Fernandez-Fraser, who now meditates 30 minutes every day, says the program has helped her become a more effective teacher. In addition to other useful techniques, she's learned to pay close attention to her students' facial expressions, which helps her be more empathetic, because students often mask their problems until they lash out and it's too late.
"I've learned to take a step back, calm myself down, and then respond to students with more empathy," she says. "I can resolve issues more quickly, and my students show genuine concern for each other, because I am giving them that space."
With alarming attrition rates in the teaching profession -- over 40 percent of all teachers leave the field after just five years -- these types of programs aim to address a crucial part of teacher training that has not been addressed in traditional training programs, according to Patricia Jennings, director of the ICE program and a research associate at Pennsylvania State University's Prevention Research Center for the Promotion of Human Development.
The university was recently awarded $932,424 from the U.S. Department of Education's Institute of Education Sciences to complete its evaluation of CARE, with a portion, $290,511, going to the Garrison Institute to continue its development of the program.
"Being in the classroom today requires a new skill set that was never part of teacher training," Jennings says. "If we can help teachers recognize and master emotional reactions and their expression of emotions, then we can help them create a more caring, communal environment in which children are more receptive to learning."
The workshops, which range from $475 for commuters to $700 for a private room plus the program fee and meals for five nights, are held at the Garrison Institute, but Jennings and her team of trainers travel to school districts around the country.
A similar initiative, the Inner Resilience Program, based in New York City, was formed after the September 11 terrorist attacks as a way to rebuild inner strength for schoolchildren and educators in lower Manhattan. It includes workshops to help teachers deal with anger management, stress reduction, talking to children about uncertain times, and creating caring classroom communities that nurture children.
Jill Lindenbaum is a writer living in the Bay Area with her husband and two kids, and volunteers at the Greater Good Science Center, a research center at the University of California at Berkeley.
How to Fit Meditation into Your School Day
Set aside 15 minutes before or after school or at lunch to meditate. Here's how:
Sit comfortably in a quiet place. You can sit cross-legged on the floor, on a pillow, or on a chair -- or whatever position you prefer, as long as it allows you to keep your back, neck, and head straight and tall.
Breathe in through your nose and out through your mouth. Notice the faint breeze in your nostrils as you inhale, the warm air across your lips as you exhale. If you like, pick a spot in your chest, neck, back, or stomach, and pay attention to how it moves with each breath.
Focus on your breathing. When you find your mind chasing a thought -- and it invariably will -- bring it back to your breathing. You can try labeling your thoughts as they fall into categories such as "past," "future," "worry," and "planning," which can help you let them go. Concentrating on your breath keeps you in the present.
Forgive your mind for struggling. This kind of concentration is hard. The idea is to keep trying and training yourself to let go of self-judgment or criticism. Remember: Meditation is a practice.

You achieve success just by continuing to meditate. -- Grace Rubenstein