Media Literacy
News Literacy: How to Teach Students to Search Smart
Students learn how to find the truth in a sea of factoids.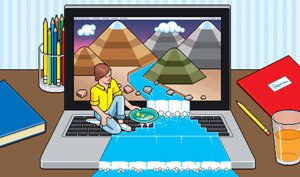 Credit: Quickhoney
The word simple can rarely be used when it comes to describing online searches for news and information. Type a noun and a refining adjective into a search engine, and you're presented with an indefinite number of links (hence, perhaps, the word Google). The information can seem equally useful at first glance but will inevitably vary wildly in accuracy, from a New York Times article to a deadpan spoof in the Onion to a biased political blog filled with misinformation. Students learn how to find the truth in a sea of factoids. Separating fact from falsehood can be a challenge for anyone, but it's especially tough for students, who may be less skeptical and more trusting than adults.
Alan C. Miller, a former investigative reporter for the Los Angeles Times, decided to address the challenge. He founded the News Literacy Project in 2008 with the goal of training middle and high school students in the fine art of navigating the Internet minefield. To help students glean the good stuff and jettison the junk, the project brings seasoned journalists into secondary school English, social studies, and history classrooms as guides. The program is now in seven schools in Bethesda, Maryland; New York City; and Chicago, with plans to extend to Los Angeles next year.
Visiting journalists pose four questions to students: Why does news matter? How can students know what to believe? What challenges and opportunities do the Internet and digital media create? Why is the First Amendment protection of free speech so vital to American democracy?
In response, students in the program create projects that answer these questions. For example, they devised a Monopoly-like board game called Speechopoly, in which players land on and purchase spaces that represent First Amendment cases, and they orchestrated a mock television show that cautions viewers not to accept as fact everything that they read on Wikipedia.
Though it's a remarkable resource, the sheer abundance of online information has its downsides. Daniel Russell, a research scientist at Google, in Mountain View, California, estimates that students could conceivably access roughly a million times more content through Internet searches than previous generations could find at a university library.
Everyone has to learn to think like a journalist, Miller says, but "most students today don't have the tools to navigate through the forest of sources available of widely varying purpose, accountability, and reliability." The News Literacy Project provides the following tips for your students to use while evaluating information.
Ask Yourself, "What Am I Looking At?"
Is it news, opinion, a personal blog, gossip? Advertising? Propaganda? How can you tell the difference?
Think Critically about News and Information
Who created the reports and editorials? For what purpose? Is the information verified? If so, how? What is the documentation? Is it presented in a way that is fair?
Learn to Spot Bias
Watch for loaded or inflammatory words. Does the author have an agenda? Is more than one side of a story presented? Did the subject respond?
Beware of Information Found on Wikipedia
Entries can be changed by anyone at any time. This calls into question the accuracy of the information at any given moment. That said, the primary sources linked in the entries are often a rich trove of reliable information.
Don't Allow Yourself to be Fooled
Nobody likes to be duped. If something sounds incredible, it probably is. Good places to check urban myths are the Annenberg Public Policy Center's FactCheck.org and Snopes.com.
Malaika Costello-Dougherty is a Senior Editor at Edutopia.