Project-Based Learning (PBL)
Imagining the Ocean: Art Mixes Well with Marine Science
Sea creatures come alive in student work — and teach science.
Thanks, Ocean:
Mixed-media drawings and watercolor pictures were created for a Thank You Ocean project.
Credit: Courtesy of Laurie Guest
The drawings of ocean plants, as imagined by fifth graders in a Massachusetts summer program, had the craziest of adaptations. One student even added a life jacket to give a microscopic organism better buoyancy.
And in upstate New York, a second grader wrote a poem about the sea:
Oceans, oceans,
So many creatures,
So neat:
Starfish, clownfish, sharks . . .
In a high school marine science class in Florida, students recreated the Japanese art of fish printing while they were learning about bony fish such as angelfish, tuna, and salmon.
What do the teachers in these classes have in common? They all feel it is key to blend the arts with lessons on the sea. Integrating the mystery of the ocean with writing, painting, and drawing, they believe, creates a learning experience that helps spark their students' interest in science and also taps into their imaginations. Melding art and marine studies also offers a way to slip in instruction on both these subjects. Art tends to get pushed aside in favor of NCLB-tested subjects, and ocean studies often gets overlooked for more familiar science topics.
At a high school along the Florida Keys, marine science teacher Carmen Kelley finds that giving science students hands-on activities, such as art projects, not only breaks up the monotony of a lecture but also taps into right-brain, creative thinking rather than just left-brain, analytical thinking.
"You can't teach to one style. Why do we teach only to the left brain? Using art is just a way of helping some kids with how they learn best," says Kelley, who also teaches art at Coral Shores High School, in Tavernier, Florida. "There has to be a break in the pattern that gets the students to move around."
During a unit on bony fish, Kelley teaches her eleventh and twelfth graders about gyotaku, a form of fish printing that Japanese fisherman used about a hundred years ago. Kelley has her students put various colored inks on dead fish, usually bait fish. Then, they place T-shirts onto the fish to create imprints. Kelley also has her students create journals and illustrations to accompany other marine lessons.
"Not everybody learns the same way," Kelley explains. "Art can springboard into memory what students see in a book. "
The Practical Side
Belinda Ringpfeil, who teaches gifted students in grades 3-6 at Elsanor Elementary School, in Robertsdale, Alabama, finds that the art projects she assigns help her students process information and apply what they've learned. She notes that the whole time they're working on an art project, her students are thinking about the animal or plant.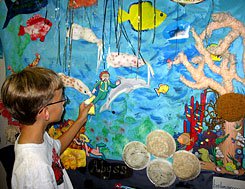 Credit: Courtesy of Belinda Ringpfeil
Underwater Adventure: Reid, an Elsanor Elementary School fifth grader, pretends to be a scuba diver exploring the coral reefs.
One of the projects she uses in class is a three-dimensional model of coral reefs made out of egg cartons and adorned with papier mâché sea animals. The reef model even features retractable tentacles -- some corals have tentacles to grab food such as zooplankton -- to reflect the true behavior of live coral.
Although the benefits of using art to enhance ocean science are many, ocean studies aren't a big part of school curriculums. A 2004 report by the U.S. Commission on Ocean Policy found that statewide science standards typically don't call for using marine life to meet science requirements. But the same report said core science principles are "easier to grasp when introduced through ocean examples," and it urged the creation of ocean curriculums that more K-12 teachers can use.
Educators who use ocean-studies lessons believe it is a shame not to incorporate the subject in lessons. "The ocean is so massive, and we have so many connections to it," says Ringpfeil. "I think it's pretty ridiculous to raise our students to ignore it and not learn about it."
Some science teachers do use the ocean to teach basic science concepts that are part of science standards, such as the food chain. Laurie Guest, who teaches sixth- and seventh-grade science at the Mare Island Technology Academy, in Vallejo, California, uses the ocean to meet standards on photosynthesis and ecology. Her students have a natural love of animals and the ocean, which she plays to in her lessons. "The real hook in middle school is to find something the kids are interested in," Guest says. "Plus, studying about the sea fits beautifully into the standards."
Mixing Subjects
Ringpfeil uses the ocean in writing assignments to tap into higher-level imaginative thinking. A lot of children, she says, don't know how to use their imagination, so her assignments ask them to choose a sea animal and write from the perspective of that creature. They become better creative writers, she says, as they pretend to be the animals, imagining what they do and where they go.
In Angola, New York, along Lake Erie but 400 miles from the ocean, reading specialist Kathy Dole uses the sea to inspire creativity. Her kids at John T. Waugh Elementary School write different types of poetry, including question poems that ponder where a seashell came from or why sea turtles eat grass. (Download a PDF of a worksheet and a PDF of the lesson plan she uses.)
For her classroom writing lessons, Dole uses footage of her own scuba-diving trips and shows her students seashells and other objects. "They write about the beauty that they're seeing," she explains. And when they get to hold an object such as a seashell, they get a sensory experience that makes their writing more interesting. Dole says, "It stimulates their curiosity more, and they ask more questions once they've touched objects from the ocean."
Dole and other teachers who use lessons on marine science hope to inspire students to take care of the oceans while simultaneously helping them improve their academic skills. Recently, a second grader named Victoria approached Dole and told her she had an ocean story. Dole got out a pencil and wrote it down:
"You always have to keep the beach clean. Keep the sand clean, or you'll step on something sharp and break your foot open. Always make sure no dead bones are on the beach, or people could pick them up and think they're doggie toys. Do not kill many fish in the sea, because soon there won't be any. If you do, then you won't be a part of the Big Green Help."
Dole plans to use this story to help Victoria with her reading and writing.
Alexandra R. Moses is a freelance writer in the Washington, DC, area who specializes in education.