Project-Based Learning (PBL)
Model Projects: Maker Faire Inspires Learning and Creativity
This event on do-it-yourself projects offers ample fodder for classroom STEM activities.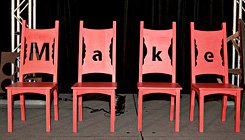 Credit: Katherine Emery
Seats of Learning: At Maker Faire Education Day, 500 students and teachers gathered on a single day to learn from inventors and participate in hands-on projects.
It's a rare occasion that draws 500 students and their teachers across school district lines to attend one giant educational workshop. It's even rarer that the field trip presents them with scores of hands-on projects that reinforce the everyday lessons being taught in the classroom.
But that's exactly what happens in the San Francisco Bay Area when secondary school classes flock to Maker Faire Education Day. At the May event, the first of its kind, two dozen inventors shared theirideas and creations -- from electronic gadgets to homemade instruments -- and discussed the scientific principles that make their work possible.
Dale Dougherty, founder of Maker Faire -- the larger, weekend-long public event on which the Maker Faire Education Day is based -- says traditional vocational-arts courses are disappearing from school curricula, but many professions still require hands-on skills. This event is one way to keep interest in manual efforts alive.
Natalie Roman, who teaches middle school math and science at San Francisco's Creative Arts Charter School, subscribes to Make magazine, one of the hosts of Maker Faire. "I'm a really big fan of the do-it-yourself spirit and everything that it's about -- science, art, technology," she says. Roman adds that she took her students to the event for inspiration. "We're a project-based school, so I'm always looking for creative new ways to get my students to use their hands."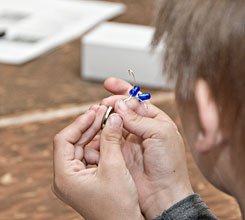 Credit: Katherine Emery
The Eyes Have It: Even small hands can build the circuits for the Blinkybugs.
One model-building project, called the Blinkybug Workshop, fits that bill. Students create electromechanical insects that respond to movement, wind, and vibrations by blinking their eyes. Teachers can duplicate the project, which uses simple materials, in the classroom to teach basic lessons in conductivity to elementary school and middle school students. The Blinkybugs -- which cost less than $4 per student -- consist of pipe-cleaner legs, watch-battery bodies, guitar-string antennae, copper tubing, and flashing, light-emitting diodes (LEDs) for eyes. The cute factor of the project draws kids in and interests them in learning a little about currents, circuits, power sources, and switches.
Several students from the Creative Arts Charter School cluster around a table of the Blinkybugs. "Oh, they're so funny!" exclaims Leah, a seventh grader in a cupcake-emblazoned sweatshirt. Blinkybugs creator Ken Murphy explains, "When this piece of metal touches that piece of metal, the eyes go on. A little breeze will make them blink." Leah asks a string of follow-up questions: "Can you use them for finding the wind? How do you turn them off? Do you just take the wires out of the loops?" Murphy's answers give the whole group an introduction to how electricity works.
Murphy, a Web developer who originally created Blinkybugs as a type of lighthearted urban-graffiti art, presented his project to about seventy-five students at Maker Faire Education Day. He also held a special workshop for teachers, during which he recommends creating centers led byvolunteers (or a few trained students) for each step of the process. Teachers can expand the lesson to cover basic physics by having students compare how using different lengths of wire for the antennae affects their movement.
Murphy sells four-bug kits online for $15 and says that, due to teachers' interest in using Blinkybugs in the classroom, he's developing a twenty-bug kit with spare parts for an even lower per-unit price. Look for these teacher kits to be available this summer.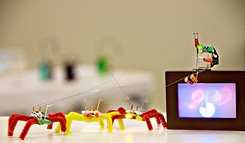 Credit: Katherine Emery
Bugs in the System: Blinkybugs use simple materials to teach basic lessons in conductivity.
At one of Murphy's workshops, middle school students Arno and Dakota assemble their own Blinkybugs. Arno adjusts the guitar-string wire to go through loops he creates in the LED wire leads to make his bug's eyes blink when it moves. "It's just the guitar wires touching the other part," he notes. "They're supposed to go through these holes without touching the sides." Dakota, happy to be done with the standardized testing of the prior week, says the activity was fun. She explains that the bug's eyes blink "because of the negative and positive energy from the battery, the wires, and the antenna thingies." Murphy elaborates, saying that when the long wire antennae touch the LED loops, the contact closes the switch of the electric circuit.
Mollie, a Creative Arts seventh grader, says she visited most of the exhibits at the Maker Faire Education Day and adds that she especially likes Blinkybugs because of the "wire's sensitivity to touch and feel." She also seems to understand the larger point of the event: "Well, our science teacher wants us to learn how to make things and be inspired and just bring out our inner creativity."
Lisa Morehouse taught secondary English for twelve years in San Francisco and rural Georgia. She is now a public radio journalist and education consultant.
DIY Doings: More Classroom Projects from Maker Faire
Maker Faire Education Day featured tinkerers of all stripes showing off their creations to middle school and high school students and teachers. Natalie Roman, a science and math teacher at San Francisco's Creative Arts Charter School, says she could connect just about any project at Maker Faire's Education Day to her classroom's content. Here are three standouts:
The Cell Project, from GalaxyGoo
Academic themes: biology and life science
Grade levels: 6-12
Average cost per student: $4.50 (less if you buy the clay in bulk)
Biology teachers often require students to build models of cells, but few are as striking as these clay ones. Using Crayola's Model Magic, students construct their cells one part at a time. Once the clay dries, they can dissect the cells to examine and study their work.
Kristin Henry, who started GalaxyGoo, a nonprofit organization that supports science literacy, says students at Maker Faire did more than just get their hands dirty. "Kids seemed to really enjoy doing the biology lesson along with playing with the clay. They wanted to build the structure properly," she recalls. "I was really happy about that."
Teachers can visit Galaxy Goo's Web site for more information on building model cells with clay, including photographs of clay cells, helpful links, and supporting materials. The vocabulary and documents line up with California state standards in seventh-grade science, but teachers can adjust them up or down.
Wooden Bikes
Academic themes: engineering, physics, and physiology
Grade levels: 7-12
Average cost per bike: $10-$100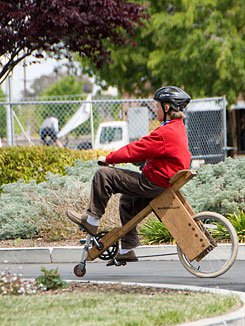 Credit: Katherine Emery
Wood Turning: A student tests a custom-built bike.
Engineer and cycling enthusiast Tom Kabat works with what he jokingly calls cardboard-aided design -- his version of CAD -- to teach students how to build their own ergonomic bicycles. As part of the project, students make cardboard cutouts of their own bodies, with hinges at the leg and arm joints, then juxtapose their paper selves with the driftwood or other materials they'll use to assemble the bike.
"I do a lot of work trying to figure out how to line things up so that there's not too much leverage on any one part," Kabat says. "Sometimes, I get it wrong, and we break parts off." But that's OK, he notes, because it teaches students that invention requires both flexibility and trial-and-error. "You build things that will break, but you can repair them and put them back together."
Seventh grader Leah says her bike is very odd, as she grabs a helmet and hops on. "It's wooden and -- oh, my gosh -- it's kind of like a scooter on the bottom, but there's a seat on it that sticks out."
Teachers can find tips for mounting wooden-bike projects in their classrooms and can learn about cycling's history on Kabat's hobby Web site.
DNA Extraction
Academic themes: general science and genetics
Grade levels: 2-8
Average cost: $1 per student
The instructors at Schmahl Science Workshops came up with this engaging lesson because they want to give younger students a base of understanding for future science projects. The exercise is straightforward: Kids extract and isolate DNA from a strawberry.
Clad in a bright tie-dye shirt, Sarah Thaler, a Schmahl instructor, commands the attention of more than one-hundred students at Maker Faire. This is no small feat, because the middle school kids are squarely focused on what they are holding -- plastic bags filled with a mushy pink pulverized strawberries. "Everybody ready?" Thaler asks, preparing the students to add a buffer solution of soap. "Hold up your cup when you have 10 milliliters of soap solution in it. That's how I'll know you're ready."
Students giggle and chat but open their bags and pour in the soap solution. "Mix it, mix it up!" Thaler directs them. (The agitation separates the strawberry cell membranes and nuclei.) After filtering off the fruit debris, students add alcohol to draw the DNA away from the strawberry proteins (and other cellular material) and then transfer the DNA onto a straw (a procedure called spooling). Students can experiment further, testing the process with other fruits or detergents, leaving out steps (to see whether the experiment still works), and trying to extract DNA from nonliving things. For project instructions, download a PDF.
-- LM