Project-Based Learning (PBL)
Lego Mindstorms NXT Robots: Building Bonds with Bots
Learn science, technology, engineering, and math with robot-building projects.
August 13, 2008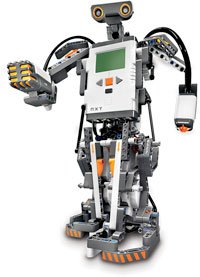 Credit: Courtesy of Lego
Alpha Rex: This creature with the chest-thumping name has earned the ultimate robot title: "Humanoid." With a torso that consists of the NXT software "brick," complete with a visible heartbeat and an array of sensors, Rex can see, hear, feel, and walk. Or, in the case of the education version, roll on wheels. Depending on audio input, it can also talk, though riveting conversation isn't yet an option.
No disrespect to the hours of pleasure and learning offered to many generations by Lincoln Logs, Erector Sets, and Lionel trains, but Lego Mindstorms NXT robots may be the best bond between teachers (or parents) and students to come along since Horace Mann was a boy.
Robots are increasingly important in modern life, and increasingly fascinating to the kids whose play today will shape the world tomorrow. (See "Rise of the Robots: The Human-Machine Interaction Enhances Tech Teaching" and "Bots vs Bods: NASA's Seventy-Fifth Birthday Present -- Footprints on Mars.") With motors, sensors, and mechanical parts supplied by Lego, students can construct robots of various kinds, from the simple to the android-esque, and study science, technology, engineering, and math in a painless, project-based way.
The cost for the Alpha Rex education kit is $260, and no feeding other than the occasional recharge is needed. Unless programmed to do so by their makers, the Lego bots will never say, "I'm sorry, Dave, I'm afraid I can't do that."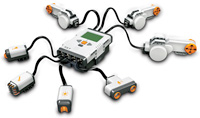 Credit: Courtesy of Lego
Brain-iac: The heart, soul, and mind of the matter in Mindstorms bots is the NXT software package, with multiple ports for the motors and sensors that give the machines the capability to react to the world around them.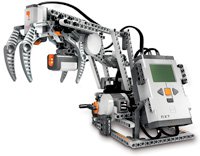 Credit: Courtesy of Lego
Robo-Arm T-56: A real grabber, literally, the T-56, with three motors and light and touch sensors, can lift, pivot, and pick up objects with its claws. It can also tell the difference between a red ball and a blue ball; it will hold the color it's programmed to prefer, and drop the other. This, presumably, can make it a Republican or a Democratic robot.
Owen Edwards is a contributing editor for Edutopia and Smithsonian magazines.