Social & Emotional Learning (SEL)
Kid Power: The Roots & Shoots Program
Children learn they hold an important place in this world, and that they can make a difference.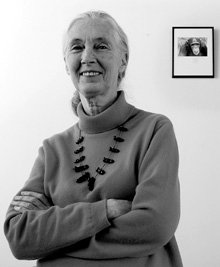 Credit: David S. Holloway/APIX
Years ago, I visited a group of children in the Bronx at one of the poorest schools in the nation. I went there to inaugurate a chapter of Roots & Shoots, my global network of youth groups that perform local service-learning projects for the betterment of animals, the environment, and the human community. As I spoke, an eight-year-old boy, Travis, slouched at the back of the room, silent, a hood pulled low around his face. There were many others like him.
I returned a year later to find an extraordinary difference in the children. Instead of sitting slumped and silent, the Roots & Shoots kids spouted out all they had learned about the scourge of Styrofoam: which chemicals it contains, how much space it consumes in landfills. They had convinced administrators to stop using Styrofoam in their school lunches and were campaigning for change at other schools. Travis, without a hood this time, stood to tell me about another triumph. He had seen a dressed-up chimpanzee pictured on a cereal box, smiling -- an expression I had taught the children shows fear, not joy. Travis pulled himself up very tall and straight, and said, "That's when I decided to take action." His class wrote letters, and the photo was pulled.
What children are learning through Roots & Shoots and other such programs is that they have a voice. This is the power of service learning. First, children need our help to become aware about the urgent issues going on around them -- whether it be construction that could destroy a nearby river or an animal shelter where the dogs get no exercise. Then they need a platform where they can assess that knowledge and ask themselves, "Do we care, and would we like to try to change this?" This teaches them not only what they can do about a problem but also, most importantly, that they can do something. Once children take those steps, and once they find they can make a difference, they are changed for life.
There aren't nearly enough schools playing a strong enough role in this learning, partly because teachers are so busy these days. This passion for test, test, test, which tests only the parrot-like retention of facts, has negatively affected teachers' ability to care for individual children. Yet one of the most powerful ways Roots & Shoots has grown is through dedicated teachers, teachers who get it. Once children see the positive impact of their actions, it is like an addiction: It feels good, and if you feel good once, you want to do it again. The harder it is and the more you work, the better you feel.
Last year, I talked to some ten- or twelve-year-old children in Nepal. They were from the untouchables class and were illegally forced to work in coal mines, where the dust damages their lungs. A group of Roots & Shoots students from the university in Kathmandu were regularly visiting there, teaching them to read and write -- this is the only way they may be able to escape from the hardship of their lives. I told them, "Each one of you has a gift." They looked surprised, and I could see them wondering, "What sort of gift do I have?" I explained, "Your gift is your life. Your life has a meaning, and what you do each day really does make a difference." Some got tears in their eyes -- no one had ever told them before that they mattered.
This is what I want every child to understand: Your life matters. You can't live through a day without making an impact on the world. And what's most important is to think about the impact of your actions on the world around you. And that message, by the way, is not just for youth -- that's for everyone.
Jane Goodall, whose observations of chimpanzees in East Africa revolutionized our understanding of them, leads the Jane Goodall Institute.