Assessment
How to Use Performance-Based Learning in the Classroom
Through dramatic work, students acquire tools for forming clear personal objectives, learn rhetorical strategies to achieve those objectives, and recognize when those strategies have succeeded or failed.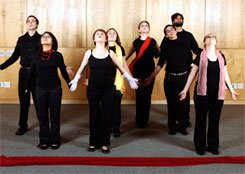 Credit: Elena Dorfmann
James Henderson Collins and Corby Kelly, cofounders and cofacilitators of the Philosophical Stages summer program for high school students at Stanford University, make philosophy accessible through the medium of theatrical performance. The ideas and practices Collins and Kelly bring to Philosophical Stages can be employed in any K-12 classroom. How (and why) do they add a new P to PBL? Here, they tell us what works:
Make live performance part of class.
We believe that every area of humanistic study involves performance at some level; finding the performance element makes material more engaging and relevant. This doesn't have to involve a stage with an elaborate set and after-school rehearsals. It can be as simple as using class time to enact a debate between Alexander Hamilton and Aaron Burr, or to script a scene that demonstrates the process of photosynthesis. Through dramatic work, students acquire tools for forming clear personal objectives, learn rhetorical strategies to achieve those objectives, and recognize when those strategies have succeeded or failed. They become comfortable in front of an audience, develop self-confidence and self-presentation skills, and are likely to stay actively involved -- and to have fun.
Bring a dramatic perspective to literary and historical figures.
Language arts and history classes are full of characters. When students fill out comprehensive and vibrant portraits for these characters, dramatically embody those portraits, and then, in character, improvise responses to imagined circumstances, the lives of these figures become more immediate and pertinent. If you are studying the founding of the Roman Empire, for instance, try telling your students, "You are Caesar. You are standing with one foot in the Rubicon. What are you thinking? What are your motivations? How do you explain your choice?" Students could answer these kinds of questions as a homework assignment, then discuss and present their answers -- in character -- in front of the class.
Conduct group trust exercises.
Group trust exercises, used often as warm-ups for actors to test and hone improvisational skills, create welcoming spaces for students. Learning environments benefit from trust and personal investment, as well as an active and dynamic way of working with one another. For instance, try playing Improv Freeze, an activity that asks students to put themselves, two at a time, in an improvised position in the center of the room and begin enacting an imagined scenario to explain that position. (One student might start out kneeling, for example, and the other would begin by standing with his or her arm lifted in a commanding way.) Other students can call out, "Freeze!" at any point during the scene, replace one of the actors, and begin improvising an entirely new scenario.
Build a network.
Regularly involving multiple instructors with different talents and approaches provides more opportunities for students with diverse approaches to be more authentically engaged. Last summer, Philosophical Stages invited guest speakers from Stanford's Classics Department and the Bay Area acting community, as well as Gerald Gray, director of San Francisco's Center for Justice and Accountability, who discussed posttraumatic stress disorder and the traumatic effects of war. This program really blew the doors off Antigone and Agamemnon for students; trauma affects ethics and decision making, and most students of these plays are not asked to consider this component when assessing these characters and their actions.
Use a wiki.
A wiki is user-friendly, non-HTML, Web page-creating software that allows multiple users to generate and edit content. Ideal for classrooms, this collaborative software makes the work of students and instructors highly visible and connected and extends reflection and engagement beyond the confines of class time. Wikis are easy to acquire for free; visit Wikispaces to learn more or to register. (Wikispaces is offering 100,000 versions of this software that usually costs $50 per year to classrooms free of charge.)
Sara Bernard is a former staff writer and multimedia producer for Edutopia.