Project-Based Learning (PBL)
How to Use College Methods in High School
Try these methods and techniques that have proven successful in engaging young minds and exercising their critical faculties.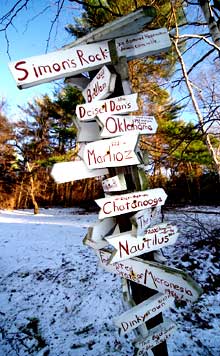 Credit: Gregory Cherin
This how-to article accompanies the feature "Cutting Class: Skipping High School is OK if You Land at Simon's Rock."
Over the course of nearly forty years of educating high-school-age students in a college setting, Simon's Rock College of Bard has developed various methods and techniques that have proven successful in engaging young minds and exercising their critical faculties.
In general, according to Joan DelPlato, a Simon's Rock professor, younger college students do well with activities that are structured yet playful and can also be personalized. Here she offers several specific examples of teaching methods and classroom exercises honed over the years by Simon's Rock teachers in all disciplines:
1. Give students blank writing journals
to encourage them to think on paper and to give them the message that writing is an important tool for learning, the process of writing is valued, and one's personal responses to the course curriculum really matter.
2. Start every class session with five minutes of free writing
to focus students. The practice eases the transition from the world outside to the culture of the classroom and gets students warmed up for class discussion. Free writing is putting on paper whatever is on one's mind: private thoughts, writing for oneself that can't be done "incorrectly," writing that's not necessarily to be shared with the class. "There's only one rule for free writing: Keep the pen moving," says DelPlato.
If students insist that they can't think of anything to write about, or if you see that they are stuck, ask them to write about being unable to write. Students can enter their "free writes" into a writing journal, which becomes a valuable repository of ideas that can be mined as the course develops.
3. Have students produce a "focused free write" (FFW).
This is a free write with a subject the teacher chooses. The assigned topic can be as simple as "Comment on last night's reading [or writing] assignment," or it can be much more pointed -- for example, specifically related to the topic of the day's class discussion.
4. Have students share their FFWs in a "thought chain."
One student begins by reading his or her writing. In turn, each student acknowledges the previous speaker's point by paraphrasing it (beginning with the classic Simon's Rock phrase, "I hear you saying that..."), adding the word "and" or "but," and then reading his or her piece of writing.
This is a good activity for getting students to hear each other and build on previous comments, fostering real group conversation. Students tend to listen much more carefully to each other's writing when they are required to synthesize it and compare it to their own thoughts. "When it works well," says DelPlato, "students are riveted to the writing of their peers."
5. Do a "text explosion."
Students choose a few phrases or words from the text under consideration (or a step in the solving of an equation on the board) based on what interests or puzzles them. Then they take one of those areas in the text (or proof) and produce an FFW on it. The text is read aloud from the beginning, and students interrupt, repeat the phrase they have selected, and insert their own piece of writing. "The effect is a constellation of responses to a flat text that is interpreted, in pieces, by the entire classroom of students in turn," says DelPlato.
Seth Rogovoy is editor in chief of Berkshire Living magazine. He lives in Great Barrington, Massachusetts.
Summer Seminar
Last summer, the first Early College High School Teaching Seminar was held on the campus of Simon's Rock College of Bard, in Great Barrington, Massachusetts, supported by a $300,000 grant from the Bill & Melinda Gates Foundation. The intensive, four-day workshop is implemented jointly by Simon's Rock and its sister institution, Bard High School Early College, in New York City (in partnership with Boston's Jobs for the Future and the University Park Campus School, associated with Clark University, in Worcester, Massachusetts). It allowed educators from all over the United States to immerse themselves in the approaches and techniques used at Simon's Rock over the past four decades.
The seminar, which included observation of students and faculty, training and coaching, and curriculum development, will be offered again this year. Those interested in attending should write Christine Somervill, executive assistant to the provost at Simon's Rock, at csomervill@simons-rock.edu or call 413-528-7216.