Project-Based Learning (PBL)
How to Give Art Class a Life of Its Own
When a high school art class becomes a professional special effects studio, students learn creative problem solving while developing personally and professionally.
Jim Bycznski, creator of Berea High School Visual Effects and Design, in Berea, Ohio, knows that art class can extend far beyond drawing or ceramics. BHSFX students use challenging materials and techniques, solve real-world problems creatively, and develop personally and professionally as they form connections with business and community members. How does high school art class turn into a working special effects studio? Here, Bycznski offers his tips:
Do the research. Bycznski wasn't trained in special effects or mask making. "I learned all by myself," he says. He bought books, videos, and how-tos, and picked up the tricks of the trade as he went along. Niche magazines such as Cinefex, Horrorshow, Fangoria, and Makeup Artist Magazine are full of inspiration and explanation, along with the video and book series The Art of Special Make-up Effects and DVDs such as Mark Alfrey's Standard Molds and Castings or Movie FX Magazine: Special FX Master Class Vol. 3.
The behind-the-scenes option on a typical DVD can be very illuminating, too. Bycznski often brings screenshots or footage to class so he and his students can collaboratively discuss the methods and gather inspiration for future projects.
Go online. "Nothing is a secret anymore," says Bycznski. "If you want to create a project, you can go online and find out how to do it." This wasn't the case when he started the class thirteen years ago, but with the advent of YouTube, discussion boards, and extensive resource lists compiled by FX aficionados, expert advice is right at your fingertips.
Some of Bycznski's favorite sites include The Effects Lab, Latex Mask Central, Make-Up FX, and the Monsterlist of Halloween Projects. Not only do these sites provide tips and tutorials, they also serve as venues for self-directed teaching and learning: BHSFX students use these forums just as frequently to share their own expertise as to ask for advice.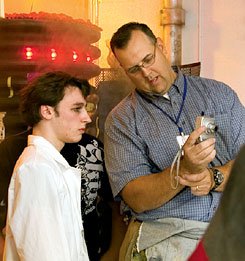 Credit: Chris Glass
Make professional work part of classwork. Hard deadlines, high expectations, and client approval create enormous incentive. Students learn just as much about the subject matter and develop critical-thinking, self-discipline, and real-world communication skills along the way. To get the word out to businesses and private collectors, attend conventions, conferences, and school meetings equipped with student work; call local companies and offer your services; or partner with local organizations to tap into their expertise so you can do larger, more visible projects in collaboration with them.
Put students in charge. When students are the leaders, decision makers, and problem solvers on a project, they take ownership of their actions and goals. Ask them to communicate with the clients themselves, work one-on-one with community members, and come up with their own project ideas. Peer-to-peer teamwork, too, not only validates each student's interests and strengths but also encourages everyone to teach and learn from one another.
Get out of the classroom. The more often students can take their projects into the real world and see what's happening in an industry they are becoming a part of, the better. BHSFX students attend movie screenings to observe and learn from current special effects, share their work at comic book conventions such as Mid-Ohio-Con and independent film conventions such as Cinema Wasteland, and visit art schools such as the Tom Savini Special Make-Up Effects Program.
Tap all sources for funding and freebies. "I learned very quickly that the worst thing anyone can do to me is say no," explains Bycznski. "I've gotten lots of things just by asking" (including, for instance, a silver mannequin at a local sporting goods store). He contacts special effects shops and building-materials companies such as Polytek, Smooth-On, and USG, several of which have donated products to the class.
"We'll scavenge and we'll hunt and we'll find things we can use to make stuff happen. All that wood for the electric chair? We got it from the Dumpster."
Still, large monetary grants are essential to keep a program like this going. BHSFX grant givers include the Educational Community Foundation (a grant program within the Berea City School District), the Martha Holden Jennings Foundation, and the State of Ohio's Career Pathway program, a grant filtered through the Polaris Career Center. To keep on top of potential funders, Bycznski also recommends getting on the Foundation Center's grants-alert mailing list.
Sara Bernard is a former staff writer and multimedia producer for Edutopia.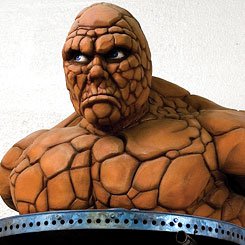 Credit: Chris Glass
Living the Dream: From caricature to horror to filmmaking, BHSFX students are the creators of their own curriculum.
Credit: Chris Glass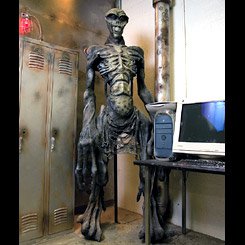 Credit: Chris Glass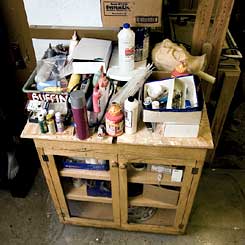 Credit: Chris Glass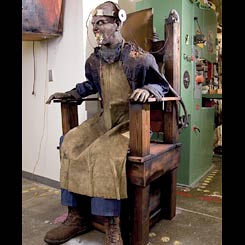 Credit: Chris Glass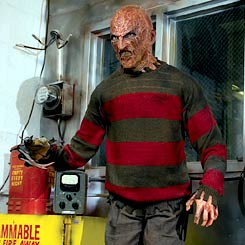 Credit: Chris Glass
Credit: Chris Glass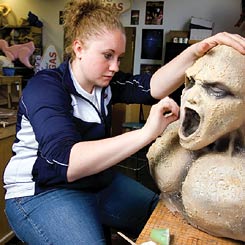 Credit: Chris Glass
Special Effects: Student Amanda See rubs latex on a sculpture she's made for a rotting-flesh effect.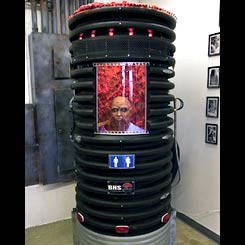 Credit: Chris Glass
This fearsome trap is made out of a discarded drainage pipe.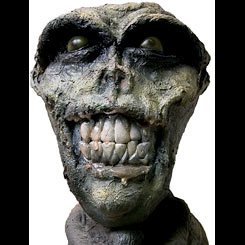 Credit: Chris Glass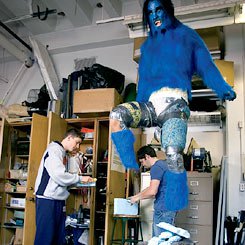 Credit: Chris Glass
The blue beast accompanied the BHSFX class to a comic book convention in Columbus, Ohio.