Professional Learning
How to Create a Web Site That's a Learning Community
Teachers need a site for one thing, parents for another, and students for yet something else. Here's an example of how to merge the three needs into one site.
Leona Jamison, professional-development director at Indiana's Metropolitan School District of Lawrence Township, says the district's biggest goal was for its Web site to help foster a professional learning community in which teachers can exchange ideas, support each other, and continually develop their practice. For parents and the community, the district wanted the site to be a place not just to find their school's address and phone number but to get involved as well. For students who grew up with digital gadgets, Jamison says, the site needed to help educators teach in the way kids are wired to learn.
My colleagues and I knew nothing about Web design and technology when we started. But we followed a process that enabled us to create a site that does almost all of what we wanted it to do. Here are the steps we took to make it happen: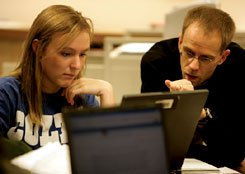 Credit: Drew Endicott
Define the Need
We assembled a task force of instructional coaches, technology staff, and parents to survey all the stakeholders on what they wanted the Web site to do. Teachers wanted different levels of professional-development opportunities, from resources that they could peruse on their own time (what we call in-your-pajamas learning) to full-length interactive e-classes.
Students needed an e-desk where they could stash and access work remotely. Parents wanted to know how their kids were doing by viewing grades, assignments, and class activities.
Find Strong Partners
Not having the in-house expertise to develop such a complex site, we looked to an outside firm. We narrowed five candidates down to one -- LightSky, of Goshen, Indiana -- and assessed the company leaders' references before hiring them. What impressed us most about LightSky was that the company didn't limit our choices to a few templates. The staff was open to trying new things and shaping the site to our needs.
Over the next year, we worked daily with the company. We made the site's capabilities flexible so it could accommodate unforeseen needs and opportunities. Total development costs were around $360,000 over several years. Thanks to our task force, we had a strong vision of what we wanted, and that was critical; school districts creating an interactive Web site have to know what the stakeholders desire.
Build from the Grassroots
When the site was ready, we grappled with how to take it to the teachers. We feared they would see it as just another thing they had to learn. Seven of our instructional coaches volunteered to create the first e-classes. We teamed up with an online instructor at Purdue University (another strong partner!), who guided the coaches through developing their first course. In exchange, she got the chance to do research with our staff on the effectiveness of coaching.
Then, the first seven online teachers each taught another colleague how to build an e-class, and the next seven teachers were encouraged to do the same. Once we had a few courses available, the coaches introduced teachers to the idea and showed them how to get into the e-classes.
Make It Relevant and Easy
One surprise for us was how hard it was for many teachers and administrators to understand how to use the Web site and see that online instruction could be just as good as face-to-face teaching. Five years into the project, we're still working on this. Barbara Pace, the professional-development Web site facilitator, created a few tutorials that gave simple instructions and showcased what the site could achieve, and the response of many teachers was "Wow!"
Once the teachers saw an authentic purpose for the site, it really started to catch on. Now, we don't just have coaches; we also have regular teachers creating and facilitating e-classes with Pace's guidance. We have a bank of fifty e-classes, with around ten running at any given time; thirty or more teachers take a course each session. This fall, a handful of teachers will facilitate our first online classes for students. About 28,000 parents have a username and a password for the Web site, and 3,500 people log in each day -- all this for a maintenance cost of just $10,000 a year. (Site upgrades cost an additional $20,000 to $25,000 annually.)
If the job had been left to us administrators, the site would not be what it is today. The many minds we brought into this process -- different people from different practices within the profession -- made it successful.