Project-Based Learning (PBL)
How to Keep a Club Swimming Upstream
The United Anglers of Casa Grande High School serve as guardians of Adobe Creek.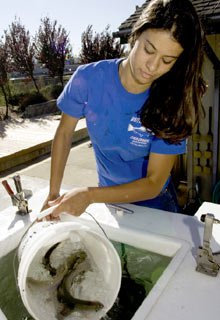 Credit: Olivier Laude
Big Fish: Club president Kali Hurd loads rainbow trout.
This how-to article accompanies the feature "Fishy Business: A Class of Kids and a School of Fish."
Forestry and wildlife instructor Tom Furrer has kept the United Anglers of Casa Grande High School in Petaluma, California, going for twenty-three years, an amazing feat in a world of changing school leadership, unpredictable funding, and fidgety teens with diverse interests. Every year, there is a waiting list of students eager to join the club, despite the demanding routine required of the twenty who make the grade. The members must be unflagging guardians of Adobe Creek while they operate a state-of-the-art fish hatchery where steelhead and salmon are spawned and nurtured for local rivers and creeks. Here, Furrer explains how he has kept the club vital and strong for so long.
The United Anglers club has gotten the reputation of being one of the cool organizations on the Casa Grande campus. How have you managed to instill this respect?
It's known as something you have to earn. The kids know you have to have desire and compassion to do it, plus the strength of character not to give up when things get hard. I don't sell the club as being cool; I just show them that they're going to get the best education I can give them, and whatever magic happens is going to happen because of them.
It sounds a little like reverse psychology: The harder you make it sound, the more the kids want to be a part of it.
I always reiterate what hard work it entails and the time it takes out of your day. The students are here an hour and a half before school every day, cleaning the raceways in the hatchery, checking on the eggs, doing all the chores. Our motto is "First to lead, last to leave." They really have to learn time management to get everything done.
The club is supported totally by donated funds. How did you raise your annual budget of $50,000?
We have one big fundraiser a year, our big Pasta Feed. This year, it was so good, it was crazy. All the Anglers baked cakes, including me, and we auctioned them off; twenty-three of them for $11,000. There was also a fashion show, where we sold our club T-shirts and the hard hats we wear out on the creek.
Additionally, there are private donations trickling in all year from all around the world. They come from people who have read or heard about the Anglers Club, and they average about $20 each. About four years ago, a teacher in Japan sent me a copy of the English text used by all the schools there, and chapter four is about our program, so we get checks from Japan all the time.
How do you get parents involved?
My kids have mostly working moms and dads, or they're from single-parent families, so that's kind of tough. The parents help out when they can, but I know how hard it is for them, so I'm satisfied with anything they can do.
You seem to put all your spare time into the club. How do you keep from burning out?
Honestly, I never feel that, ever. Each morning, I go to school and I say to myself, "Look at the opportunity I have today!" I tell the kids, "I'm a little different. I am going to have some fun today." Maybe we'll go out on the creek and look for fish, or plan a nighttime excursion during the salmon run. I'm just very, very fortunate that I have all these tools to make it fun. Plus, every year I have new kids coming in, and I see that glow they get, and it ignites me.
Is there any way to keep your graduates involved once they leave?
Watching them leave every year is very difficult. They've given up to four years of their lives to this, and I tell them that it's time to go out and find what they want to do and make a difference. A lot of them end up in fields related to what we do here, and every year a handful of them come back and talk to the students about their experiences. They're very eager to help in that way.
Have you made plans to keep the club going once you give it up?
No one is irreplaceable, and I'm grooming a young guy right now. His name is Dan Hubacker, and he was club president when he went to school here, and now he's on full scholarship at Sonoma State University. He has wanted to be a teacher ever since he was a little kid, so now he comes and works for me as an intern. I'll blend him in for a few years, and then he'll take the reins and lead it where he will. I'm teaching him all phases of the operation, but he'll have his own ideas and he'll do it his own way. But the program will continue. I didn't work all these years to see it die.
Burr Snider is a former features writer for the San Francisco Examiner. He has also contributed to Cosmopolitan, Crawdaddy, Esquire, Playboy, Rolling Stone,San Francisco, and Wired.