Social & Emotional Learning (SEL)
Help Me, I'm Failing: Louisiana Students Falling Behind Learn How to Move Ahead
A middle school program helps keep students from being left behind and left despondent.
When Althea Williams learned that her daughter, Jakeitha, now fourteen, was going to be retained in the sixth grade, she met with school officials to investigate alternatives to what she believed was a drastic and potentially damaging step.
Fortunately, Jakeitha happened to be in the right place at the right time: Eual J. Landry Middle School in Hahnville, Louisiana, which has an alternative program to help at-risk students turn their educational careers around. The program, called Teenagers in Middle Education (TIME), was started ten years ago in response to a growing recognition that students who repeat grades often sink further into an academic quagmire.
Students who end up dropping out are five times as likely to have repeated a grade, and those who have been held back two or more times almost always quit school, according to a 1990 study by educational researchers Lorrie A. Shepard and Mary Lee Smith. The social stigma associated with retention is equally devastating. Children say that only going blind or losing a parent would be more stressful, according to another study.
The TIME program serves roughly thirty students who are two years or more behind their peers academically. The key to its success is small class size and more-individualized attention. Just one month after entering the TIME program, for instance, Jakeitha's schoolwork improved -- not just in math, but in her other subjects as well. This fall, two years after she entered the program, she will join her peers as a freshman in high school.
Before entering TIME, "I was ignored in the bigger classes by my teachers," says Jakeitha. "But in TIME, because the class size was smaller, I got more attention and the teacher explained the subjects better."
The TIME program is divided into two sections: a sixth- and seventh-grade combination and an eighth-grade group. Each class is limited to fifteen students. Eighth-graders who do well and are able to pass the Louisiana Educational Assessment Program (LEAP) test are eligible to move into high school.
"One major benefit of the program is that students can make up an academic year, and that is what initially drives them to succeed," says Trina Douglas, a math and science teacher in the program. "We tell them, 'You're two years behind, but if you're successful academically and socially, we can make up a year.' And what we find is that many students who, in the past, skipped school a lot begin to have really good school attendance."
Students' ability to succeed in school and get promoted relieves them of the anger and resentment they might feel at being left behind, adds Douglas. As a result, problems like bullying are rapidly eliminated. "Kids don't have to linger in grades longer than they need to," Douglas says. "They see that there is a way out, so they are prone to do the positive instead of the negative. They're not angry."
Academic success also leads to an increased level of self-esteem, according to Dianne Powell, principal of Landry. Result: "A good, positive cycle," she says.
For instance, in the 2001-2002 academic year, TIME students had a 100 percent LEAP pass rate in language arts, and in 2003-2004, an 82 percent LEAP pass rate in math. This is a major accomplishment, Powell says. Anecdotally, the success rate appears to be high, although Powell and her colleagues at Landry don't have statistics on the number of TIME participants who have graduated from high school.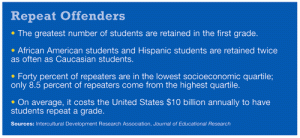 Credit: Jo Cavallo
TIME students get to create their own list of achievement goals, along with rules to help them meet these aims, another factor contributing to their success. "We make our expectations clear and ask each class to come up with the recommendations it needs to accomplish its goals," says Douglas. "We ask students, 'What do you need to succeed, what rules should we have in order for you to accomplish your goals, and what should happen if you break those rules?'"
"I'm not saying we have a 100 percent success rate," says Douglas, "but we have a lot of our students coming back to tell us they're graduating." She adds, "Normally these are the students you would pinpoint to be dropouts by the time they get to high school."
Jo Cavallo is a freelance writer living in New York City. Write to JCava15579@aol.com.