Professional Learning
Handhelds Go to Class: Using PDAs in Many Ways
Technology has brought a small but very mighty tool to the classroom.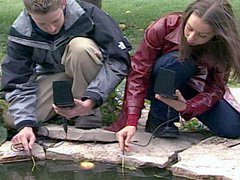 Credit: Edutopia.
Handheld Computers: Serving a Purpose in Education
Editor's Note: Since this video was produced, District 230's use of instructional technology has continued to evolve, and it no longer uses handhelds.
Handheld computers, the wallet-sized organizational devices used by business professionals to keep track of appointments, contacts, e-mail, and the Internet, have found their way into classrooms.
Students do science experiments outdoors with computerized probes and watch graphs come alive on the spot as they enter spreadsheet data. Teachers eliminate the need to write assignments on the blackboard because they can "beam" instructions to students' handhelds. A routine classroom task becomes a novelty because students can animate pictures that accompany their written reports. Flash cards become a fun computer game.
"For once, I think education is keeping up with what's going on in the real world and not sitting there chiseling something into a rock," says science teacher Laurie Ritchey, whose district in suburban Chicago was ahead of the pack in outfitting its students and teachers with the computers, also known as personal digital assistants or PDAs.
In one of the first large-scale school implementations, Consolidated High School District 230 in Orland Park, Illinois, equipped its three high schools with 2,200 Palm IIIxe's in the fall of 2000 in the form of both classroom sets and individual handhelds that could be bought or rented by students.
Teacher Janet Manning finds more enthusiasm for learning when students use PDAs.
Credit: Andrew Goldman
Affordability, Portability, Versatility
Darrell Walery, district director of technology, cites affordability, portability, and versatility as the reasons he believes the tiny computers will grow in popularity with educators. "The economic factor is a really important piece of the puzzle. I can't buy a laptop for every kid, but I may be able to buy a handheld for every kid," he says. In one year, the cost of the handhelds dropped from $225 to $100. The fact that the PDA is so versatile it can be used in P. E. classes to determine whether a student is fit, on field trips to take oxygen readings, or in art classes to make animated drawings points to its advantages. But the biggest plus, Walery believes, is that students have access to the digital devices twenty-four hours a day. They don't have to wait to get on the computer in a lab or in class. The information and applications they need are always at their fingertips.
There may even be a more important advantage, claim Ritchey and other teachers. "What you rope is kids' enthusiasm." says Ritchey, who teaches at Carl Sandburg High School. "Paper and pencil works fine, but this is kind of a cooler way of doing it."
"I guess the best thing about the Palm Pilot is that students like it so much," echoes Janet Manning, a special education teacher at nearby Stagg High School. The fun students have with the PDAs masks the seriousness of the effort, adds Stagg geography teacher Josh Barron. "I think they don't even realize they're learning."
"Beaming" information from one handheld to another saves time and paper.
Credit: Andrew Goldman
Round-Robin Beaming
Barron and his students often go through the strange-looking rite of "beaming" information to each other. With PDA in the palm of his hand, Barron will point his handheld at a student's and tap the word "beam" on the screen menu. That student will then do the same with another student until all the handhelds have had infrared ray contact.
Ritchey's class used the handhelds for an assignment to create an ecological footprint, a measurement of the human impact on nature in terms of the land and water used for human consumption and waste. The assignment started with Ritchey beaming worksheet questions, which she was easily able to modify for the next classes when questions came up. The students' job was to record more than one-hundred facts on their handhelds, such as how much the students' families ate, how much energy they used, how much their laundry weighed, how much garbage they generated, and the square footage of their homes.
Rather than transfer written answers to a computer, the students were able to input the data at their homes. When the students returned to school, they logged onto the Ecological Footprint Web site, and transferred the information into the school computer through a method of communication called synchronization or hot sync. The Web site then translated the student data into number of hectares of land that they used to live. What many students discovered was that they were using five or more hectares of earth. The Web site estimates that 2.2 hectares is the amount that can accommodate human needs without damaging the earth.
For another assignment, the students attached a probe, a special sensing device, to the PDAs and took them outside to measure oxygen concentrations in a pond. Probes were dropped into various areas and depths of water to measure the effect of sunlight on plant growth. That information was instantly graphed using special software. Students were able to test a variable and instantly see a live, moving graph illustrating their results in real time as opposed to the more familiar method of obtaining data and graphing it hours later. "The instantaneous generation of information," says Ritchey, "leads to more accurate conclusions during the lab process."
A Spanish class uses the animation feature of the PDAs to hone foreign language skills.
Credit: Andrew Goldman
Variety of Uses
Use of the handhelds has not been confined to science classes. English teacher Jean Lombaer used the handhelds with a class of sophomores reading below grade level and witnessed noticeable improvements in their work. Her students used a flash card program to enter vocabulary words and definitions and track right and wrong answers.
"I'm not going to tell you that it's because the Palm is better than flash cards, but it's brand new for the kids, and the delight of working with new technology caused them to learn a lot of the things I wanted them to learn," she says. As another aid to memorizing vocabulary, her students used a software program to draw a picture to accompany the words. The picture can be animated.
Handhelds encourage greater peer editing, Lombaer adds, noting that students can easily transfer draft copies of papers to each other and make revisions using inexpensive keyboards. Her students are more willing to revise when they can type in words rather than having to write by hand. If tapping in letters with a stylus were the only option, she says, the tiny computers would not be nearly as useful. She also used the PDAs for tests, revamping the format so that students worked in small groups and "beaming" answers among students was an asset rather than an "F."
Kim Onak, a Stagg biology teacher who keeps a set of handhelds for her special education class, says the assignment and project planner capabilities of the computers -- their original functions -- should not be underestimated. Her students are much more organized with the PDAs and use them to, among other things, keep track of grades and assignments.
Teacher Josh Barron gives students tips on best uses of handheld computers.
Credit: Andrew Goldman
Here to Stay
The kids agree.
"It's very useful in writing things down. Before, you'd have to keep everything in paper, and things would get lost."
"It's so much easier to take notes."
"It's fun."
"You don't have to worry about losing your spiral. Then, there're always the games."
Ritchey, the Sandburg High biology teacher, notes that uses continue to multiply. "We're definitely on an evolutionary trail," she says.
Diane Curtis is a veteran education writer and former editor for The George Lucas Educational Foundation.
An adaption of this article is published in the George Lucas Educational Foundation book, Edutopia: Success Stories for Learning in the Digital Age.